Title: We Walk This Road
Artist: Robert Randolph and the Family Band
Label: Warner Bros.
Formats: MP3, CD
Release Date: June 22, 2010
–
–
In the liner notes to We Walk This Road, Robert Randolph states, "This record is a celebration of African-American music over the past one hundred years and its social messages from the last thirty. Although we cover a whole timeline of different eras on We Walk This Road, what ties these songs together remains their message of hope, their ability to uplift."  A more astute assessment of this album could not be made.   Robert Randolph and the Family Band have come full circle on We Walk This Road, combining their gospel, blues and soul roots into one very cohesive whole.
Robert Randolph and the Family Band's previous recordings have relied heavily on an attempt to capture their dynamite live performances and jam band leanings.  However, We Walk This Road is a far more focused effort, which reflects the input of T-Bone Burnett whom the band tapped to produce this album.  Burnett's most famous production work to date is likely the soundtrack for Oh, Brother Where Art Thou?, and his knowledge of traditional music (such as the selections on from that soundtrack) made him a good choice for the direction Randolph was headed.
Following is the official promo video: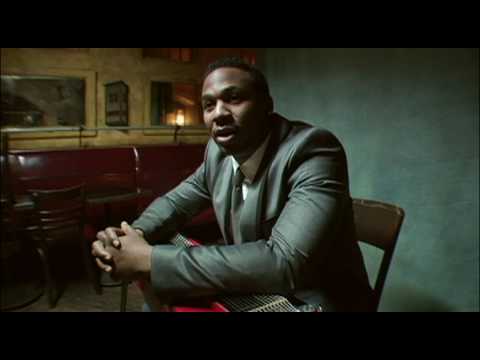 The album starts strong with "Travelling Shoes," an interpretation of a spiritual most notably recorded by Mitchell's Christian Singers in the 1930s. RR&TFB give it an update without losing any of the songs' reverence.  This track also showcases their strength as a unit―all of the band members make a strong offering, resulting in one of the best songs on the album.
While Randolph's pedal steel guitar work is undoubtedly the star of the band, one area in which the band's previous efforts have suffered is in the vocals.  Randolph himself is not a great singer (although he certainly manages), but on "We Walk This Road" bandmates Daniel Morgan and Lenesha Randolph (Robert's sister) step up vocally in a much stronger way than they have in the past.  Their presence on the wonderful "I'm Not Listening" and the politically tinged "I Don't Want to Be A Solider Mama" truly enhance the power of each.
Ben Harper, a musician who's own output has become more steeped in traditional gospel and roots music over the course of his career, lends his slide guitar work and vocals to another of the album's stand out tracks, "If I Had My Way."  Based on a traditional song by Blind Willie Johnson, this new rendition is a soul-stirring, church-shaking, monster than one can't help but "get happy" to while listening.
We Walk This Road also includes a couple of modern covers. Prince's "Walk Don't Walk" from his Diamonds and Pearls album and the title track from Bob Dylan's Shot of Love album get the Family Band treatment―both yielding excellent results.  Randolph's pedal steel guitar work on "Walk Don't Walk" should make His Royal Badness proud.
Overall, We Walk This Road does a masterful job at what it sets out to do.  It makes the connection of all black music apparent by modernizing the sound of traditional songs and interweaving them with contemporary covers, without losing one shred of the originals' authenticity or losing their own identity as a band.  The Family Band's respect for the songs as well as the artists who created them could not be more apparent.  They, with the help of T-Bone Burnett, have created a very solid release. We can only hope that Robert Randolph and the Family Band continue in this direction as their careers continue to blossom.
Reviewed by Levon Williams