Title: La Rumba SoYo
Artist: Ricardo Lemvo & Makina Loca
Label: Cumbancha
Formats: CD, MP3
Release date:  June 24, 2014
A native of Congo-Kinshasa now based in Los Angeles, Ricardo Lemvo and his band Makina Loca have become known for their fusion of Congolese and Cuban music, deftly blending rumba and soukous with son and salsa.  Fully embracing the concept of world music, their new album La Rumba SoYo was recorded on three continents and four countries—the U.S., Canada, France and Angola—and is sung in a mix of Portuguese, Spanish and indigenous Angolan languages.
A fan of Cuban music since his youth, Lemvo could often be found immersed in his cousin's large collection of vintage Cuban LPs.  More recently he has been mastering Angolan styles and rhythms such as samba and kizomba, and these feature prominantly on three of the album's tracks written in collaboration with Angolan songwriters: the humorous "Dikulusu" (A Heavy Cross) about a man who complains that alimony payments are ending up in the pocket of his ex-wife's husband, the rumba "Padre George" about a man who seeks advice from his priest, and "Simone CM," a kizomba love song similar in style to the Caribbean zouk.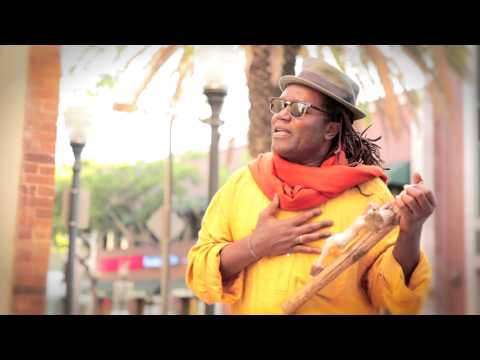 On the title track, Makina Loca aim to kick off summer celebrations with a song tailor made for partying. Drawing heavily from Caribbean merengue and Congolese soukous, the band creates infectious dance rhythms that will lift your spirits while you kick up your heels.  Other album highlights include the festive opening song "Santo António do Zaire," blending Cuban son montuno and Congolese rumba, and the salsa "El Caburnacho" which fully utilizes the band's terrific horn section.
Popular performers in salsa clubs from Cartageña to Tokyo, Makina Loca are touring the U.S. and Canada this summer in support of their new album. In July and August you can catch them live in California, Chicago, Ann Arbor, and London, Ontario.
Reviewed by Brenda Nelson-Strauss