Title: Tomorrow is My Turn
Artist: Rhiannon Giddens
Label: Nonesuch
Release date: Feb 10, 2015
Formats: CD, LP, MP3 (also on Spotify)
Tomorrow is My Turn, the first full-length solo album from Rhiannon Giddens, perhaps best known as a member of the Carolina Chocolate Drops, showcases the folk singer doing what she does best—providing stirring interpretations of others' songs.  This project, produced by T-Bone Burnett, showcases Giddens' voice in rich arrangements of material from a variety of sources, including traditional folk melodies, classic country hits, and one original song.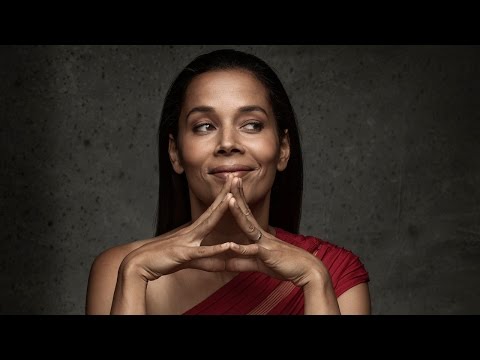 Perhaps the most potent feature of this album is its arrangements, carefully crafted by Giddens and Burnett.  Many of the songs included here are likely familiar to roots music listeners, but Giddens' interpretations cast them in a new light, challenging listeners with fresh approaches to well-known songs.  Her interpretation of the traditional "Black is the Color" is a prime example of this—beginning with just her voice and vocal percussionist Adam Matta on beatbox, the arrangement gradually builds, adding upright bass, piano, and harmonica, providing a groove that is influenced by the folk song's roots in the oral tradition but that simultaneously has a feel pleasing to fans of pop music.  Giddens also incorporates more conventional approaches to her interpretations, paying tribute to Sister Rosetta Tharpe's guitar-driven gospel style on "Up Above My Head," featuring a stomping rhythm and Tharpe-influenced electric guitar.
In addition to pulling consciously from roots music, Giddens also pays homage to popular musical icons of yesteryear, including a stirring rendition of Dolly Parton's "Don't Let it Trouble Your Mind," an R&B influenced treatment of Patsy Cline's "She's Got You" complete with a growling sax section and 6/8 feel, and a cover of Odetta's "Waterboy" in which the band's hushed intensity is matched by Giddens' belting vocals.  The album's title track, a translation of a Charles Aznavour song, continues this stylistic mélange, featuring a lilting, almost soundtrack-esque feel that would not be out of place in a film montage.  Giddens finishes the album with her own original composition, "Angel City," which fits well with the other classic material that she has chosen on this album, with introspective lyrics situated in a bed of beautiful strings and acoustic guitars.
Fans of Giddens' previous projects no doubt have high expectations for the songstress' debut solo offering, and they will not be disappointed by Tomorrow is My Turn. In terms of sheer listening pleasure, this album deserves repeated spins for Giddens' careful vocal treatment of each of these songs alone.  If one adds the delicately structured arrangements that pervade this album to the mix, it is nearly impossible to not discover something new upon each listen.
Reviewed by Matt Alley