Title: Music Inspired By Freedmantown
Artist: Reggie Quinerly
Label: Redefinition Music
Formats: CD, MP3
Release date: October 11, 2012
Jazz drummer Reggie Quinerly's debut release Freedman Town takes inspiration from a historic African American community in his native Houston, TX. Quinerly pays homage to Freedman Town, established by free blacks after the Emancipation Proclamation, by recalling its residents' struggles and triumphs in his original jazz compositions. His aim, as he declares in a spoken word interlude, is not to recreate music from the past (though he does throw in some early jazz standards), but rather to "capture a certain soulfulness of the music and the people" within his own musical imagination. The album is more or less Quinerly's journey—a "Sentimental Journey" as he lets on in his final song choice—back home, back in time, to understand the historical roots of jazz and tap into the emotions and stories that inspired it. The title track "Freedmantown," one of the album's two vocal tracks, salutes Freedman residents for "working to rebuild the legacy/ Not far away from the hanging tree."
Following is the album trailer: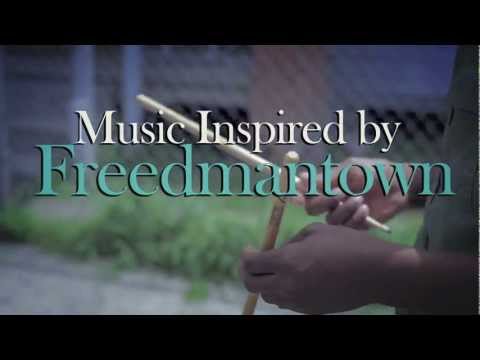 With piano and saxophone center stage, accented by Quinerly's lively drumming, the band affects an intimate jazz club feel with the mid-tempo shuffle of the opening tracks. The ensemble's smoothness, reminiscent of cool jazz, has some unexpected corners, namely Houston's Fourth Ward and touches of New Orleans' Basin Street, as Quinerly and company incorporate local color and traditional jazz into their modern sound. "Portrait of a Southern Frame," in the style of a traditional New Orleans dirge performed at jazz funerals, serves as a procession for a near-forgotten place. "The Virginia Gentlemen," one of the album's best tracks, showcases highflying solos over the Afro-Cuban rhythms of early New Orleans jazz, and uses the song's multicultural stylings to pay tribute to Richard Allen, a freed slave turned political and civic leader in Texas.
And there are still corners yet: the jazz standard "I'm Old Fashioned" sounds neither standard nor old-fashioned. The track puts an ironic twist on tradition in Quinerly's frenetically paced bop rendition. Is he just showing off? Or is he trying to pre-empt certain jazz sophisticates' condescension toward traditional jazz by shaking things up? Perhaps, but mostly it seems that he is saying that the past isn't simply the past.
Reviewed by Betsy Shepherd