Title: Lord Give Me Strength: Early Recordings 1952-1964
Artist: Prof. Harold Boggs (and Lula Reed)
Label: Gospel Friend
Format: CD
Release date: September 21, 2018
On this new compilation from Per Notini's Gospel Friend label, gospel historian Opal Nations recounts the story of Prof. Harold Boggs. Born in Port Clinton, Ohio in 1928, Boggs displayed a rare musical talent as a young boy, both as a singer and pianist. Since he also suffered from an irreversible form of glaucoma, his mother insisted that part of his special tutoring include formal music training. This education gave Boggs the skills to also excel as an arranger, composer, and choir director. In 1947 he formed the Harold Boggs Gospel Singers, and his popularity rapidly spread across Ohio, Indiana and Michigan as the group performed on the church circuit.
As a teenager, Boggs often sang duets with another well-known Port Clinton native, Lula Reed, and served for a time as her coach. After Reed recorded some secular sides for King Records in Cincinnati, Boggs was also signed to the label for a year. His 1952 recording debut for King, "The Half Has Never Been Told," opens this disc. Just a few months later, Boggs and Reed collaborated on the sides "Heavenly Road" and "My Mother's Prayer" (tracks 6 and 7), accompanied by Sonny Thompson (in a trio) along with the Harmonaires Male Quartet.
The majority of this set features Boggs' own compositions, recorded as singles. In 1955 he moved over to the Nashboro label, releasing his infectious uptempo song "When the Spirit of the Lord Comes" and the slow burner "Help Me Jesus" with his newly formed group, the Boggs Specials. There are many other selections that confirm the professor's songwriting and vocal talents, performed with a rotating cast of Boggs Specials. Boggs went on to release ten full albums for Nashboro from 1966-1977, and later recorded for other labels. The sides presented on Lord Give Me Strength document Boggs' musical evolution during the early years of his recording career, with R&B influences and a rhythm section becoming more prominent. The final tracks, "That's Where It's At" and "My Loving Mother Prayed For Me," recorded in 1963 and 1964 respectively, are phenomenal performances that lead into the rock and soul era.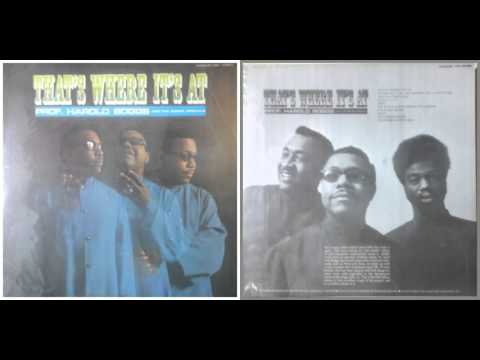 Perhaps not all of Bogg's songs were entirely original. In the liner notes, Nations comments that Boggs' "When It Hits You" is a thinly disguised gospel rendition of Ray Charles' arrangement of Sy Oliver's "Yes Indeed." Conversely, Boggs' 1962 release, "That's Where It's At" on the Song Bird label, was later claimed by Sam Cooke, while Boggs' 1958 composition "Lord Give Me Strength," was the basis for Eric Clapton's 1974 release "Give Me Strength," but later attributed to an earlier release by Lovelace Wallace. Such was the state of musical borrowings back in the day.
Boggs stayed close to his hometown of Port Clinton, later hosting a radio program over WRWR, sponsoring church programs, establishing a chapter of the NAACP, and eventually settling in as pastor of the Gypsum Tabernacle, founded by his mother in 1928. Boggs died in 2000 and, if YouTube comments are any indication, he is still fondly remembered by parishioners who witnessed his performances in churches throughout the Midwest and South.
Lord Give Me Strength is a wonderful tribute to Prof. Harold Boggs, an important 'golden age' gospel artist and composer from Ohio.
Reviewed by Brenda Nelson-Strauss