Title: Plays Nat King Cole En Español
Artist: David Murray Cuban Ensemble
Label: Motema Music
Formats: CD, MP3
Release date: October 11, 2011
There is an old Mexican proverb which translates along the lines of "Do not be afraid of the chili pepper, even though it certainly is red." And while the intended moral lesson of the phrase more often baffles than benefits, its basic meaning is decidedly useful in understanding and appreciating Latin jazz. Regrettably, the genre of Latin jazz has a rather unfortunate and contradictory reputation for being either too stodgy for pedestrian tastes or too boisterous for the likes of lofty jazz intellectuals (a prejudice that spawned last year's disastrous decision to eliminate the genre as a Grammy category). However, like all stereotypes, these cursory judgments of Latin jazz overgeneralize a music which is equally accessible and sophisticated enough to satisfy any musical preference. Just as we were warned to not be intimidated by the chili pepper despite its obvious explosive color and flavor, so too must we endeavor to embrace Latin jazz in all of its fiery glory and begin to celebrate rather than criticize the spice that lends this music its distinctive flare.
David Murray's latest musical venture makes for an excellent introductory chili pepper, one that is not so spicy as to scare yet not too mild as to bore. Displaying his usual ingenuity, Murray has taken on the intriguing task of refurbishing the recordings Nat King Cole made in Spanish and Portuguese. In David Murray Cuban Ensemble Plays Nat King Cole En Español we find a re-Latinized version of Cole's Americanized interpretation of Latino classics. Given such a convoluted formula, the ultimate effect is surprisingly enjoyable and fresh. Murray, with the help of an extraordinarily talented Cuban jazz ensemble, is able to revitalize the Latin energy found in the original compositions that are noticeably missing from Cole's more tame and polished versions. Yet Murray stays true to Cole's unmistakable crooner style—channeling Cole's intrinsic warmth and light swing through his own tenor saxophone. In addition, Murray's simple licks resemble Cole and his penchant for clean and spare melodic phrases. Murray also takes inspiration from the great Cole in his lush symphonic orchestration, albeit a lot less syrupy than Cole's own arrangements. In this way, Murray embodies the voice of Nat King Cole on his horn while broadening the musical scope to accommodate contemporary improvisation.
From the very first track, entitled "El Bodeguero," the album captures the Latino essence of the material while simultaneously providing approachability to listeners with its playfully swinging cha-cha rhythm. Murray's most remarkable solo in the entire album can also be found in the opening tune; one cannot help but be impressed by Murray's remarkable mastery of his horn as he weaves in and out of the melody with a sort of nonchalant joy. His brief trips to the altissimo register (strategically few in number so as to enthuse rather than irritate) are simply splendid to behold.
In "El Choclo" listeners are treated to the raspy and vivid vocals of famed Argentine, Daniel Melingo. His voice in conjunction with the sinuous sound of the bandoneón (an Argentine accordion) played by Juanjo Mosalini conjures forth the exquisite sound of authentic tango, effectively transporting the listener straight to the luscious landscape of Argentina. Murray, on tenor saxophone, adds another layer of tension with his impulsive capers amidst the brooding dialogue between singer and bandoneón.
Following is a performance of "Black Nat"(track 6), recorded live at Le Poisson Rouge in New York in January 2012 (courtesy of NPR):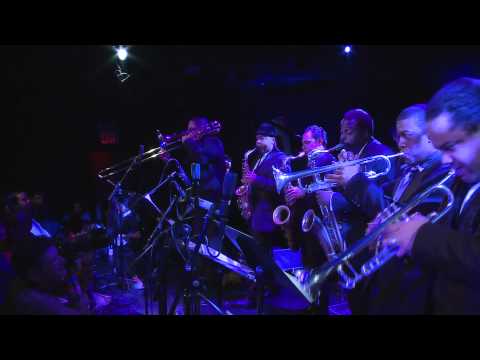 Exhibiting tight synchronization, intricate rhythms, wildly progressive harmonies, and exuberant improvisation, Plays Nat King Cole En Español is certainly Latin jazz at its very finest. Furthermore, the album features a confluence of South and Central American-based musical traditions, offering a legitimate and fulfilling ethnic experience. For Latin jazz newcomers and enthusiasts alike, this album will certainly make for a subtly spicy addition to any music collection.
Reviewed by Catherine Fonseca