Title: Jukestone Paradise
Artist: Pimps of Joytime
Label: Write Home
Formats: CD, LP, MP3
Release date: April 21, 2015
Can any band moniker more perfectly describe the sonic ecstasy oozing from its collective consciousness than Pimps of Joytime? This Brooklyn-based quintet has been hitting it hard since 2007, gradually rising up the food chain to play major festivals such as Bonnaroo.  Plucking musical influences from a buffet of rock, blues, soul, NOLA second line and EDM with second helpings of funk, the band's sound really solidifies on their third studio album, Jukestone Paradise. According to Pimps' mastermind Brian J (vocals, guitar, bass, keys and programming), the album reflects his conception of "what a weird, spaced out futurist Juke Joint might be like and the music you would find there." So climb into the mothership and prepare to embark on a funktastic musical odyssey. Following is the album trailer: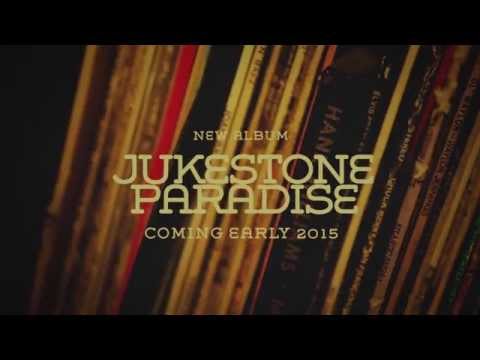 Jukestone opens with "Red Golden," which veers between bluesy and psychedelic rock. The song is propelled by the dynamic duo of Mayteana Morales and Cole Williamsx, the band's female percussionists/vocalists. "Dance Cardia," which features an appearance by Rubblebucket's Alex Toth, is underpinned by a guitar riff that channels Michael Jackson's "Beat It."  Dipping deeper into the funk well on "Heart Is Wild," percussionist Chauncey Yearwood joins Pimps' drummer John Staten and bass player David Bailis to create an irresistible dance groove. Ivan Neville (Dumpstaphunk) makes a guest appearance on "Sky," a song with an old school vibe that seems to include sly references to "Lucy in the Sky With Diamonds."
One of the highlights of the album is "Jump," an incredible tour de force of frenetic guitar picking that effectively combines blues and funk with electronic effects. The album closes with two crowd favorites: "Dank Janky" about "a mythical vagabond who's got magical funk powers," and the grooving anthem "Freedom Dancer" that channels the '70s but with a contemporary edge as it veers across a universe of musical influences that will leave your head spinning and your body shaking.
Reviewed by Brenda Nelson-Strauss