Title: Made in Pieces
Artist: Pieces of a Man
Label: Tru Thoughts
Formats: CD, Digital
Release date: July 12, 2019
Pieces of a Man (POAM) is a collective of musicians living in Manchester, England  comprised of Pils (Illya Gosling) on keyboards/sax, Mark Parkinson on guitar, Tim Curry on bass, Aden Peets on drums and beats, with lead singer/synth player To!u A¡ay and on talkbox/vocoder and David "DK" Klien on live effects. This is no typical band! Their music can be described as cross-genre, inspired by the likes of Ron Kenoly, Quincy Jones, Herbie Hancock and Israel Houghton. POAM also draws from more modern soul influencers such as D'Angelo, Dwele and Jill Scott "to create immersive, textured soundscapes built with hip-hop, funk and R&B."
Their new album, Made in Pieces, lives right in the world of lofi R&B and soul with trippy hip hop arrangements. "Pushing past the confines of conventional soul," the band delivers with tight brass horn licks, funk synths and Rhodes riffs—all rhythmically grating against one another in a staple pocket and groove. While that groove is tight, the music is far more than just amazing musical arrangements.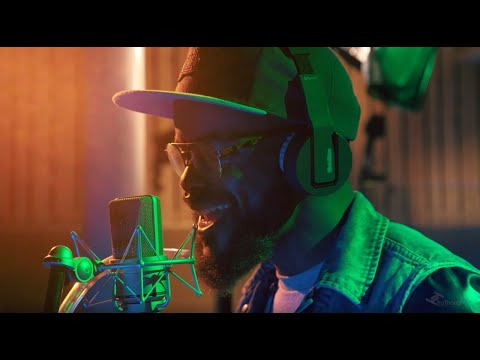 The single "Listen," written by To!u, describes his personal struggle of coming out to his mother: "It went terribly, but we build from brokenness." The video single was filmed during a live session at Oxygene Studios in Manchester, where the band recorded many of the live elements for their album. "Listen (Live Studio Session)" sees the band inviting a mix of loved ones old and new into the studio, reminiscent of Esperanza Spalding, Snarky Puppy and PJ Morton's live studio albums. Members of Rainbow Noir, an organization co-run by To!u that celebrates LGBTQI people of color based in Manchester, were also among this collective. "They are friends turned family, who not only have shared similar struggles with being heard and understood by loved ones but also know how to bounce to a gritty groove." "Listen," like many other songs on the album such as "Nothing to Lose" and "Climb Down," tell stories about people living their truths and claiming agency over their narrative.
Made in Pieces is an album straight form the hearts of talented musicians who care about the groove just as much as they care about the communities of people who enjoy their music. The songs will have you bopping your head and digesting wisdom through the true lived experiences of these musicians.
Reviewed by Bobby E. Davis Jr.