Title: Live From Stern Grove
Artist: Pete Escovedo
Label: Concord Picante/Stiletto Flats Music
Formats: CD, MP3
Release date: September 25, 2012
In his latest release, "Live from Stern Grove," timbales master and bandleader Pete Escovedo, 77, demonstrates to the Latin jazz audiences that he is not done yet. In fact, he is greater than ever, accompanied by his whole family: a legacy of tremendous percussionists, arrangers, composers and singers, of which the most salient is, of course, percussion-virtuoso Sheila E. This album, released under the labels Concord Picante/Stiletto Flats Music, is an eight-track live performance conducted in early 2012 at the famous Stern Grove Festival in San Francisco. In this performance, Pete Escovedo and his Orchestra perform Latin jazz classics, like Tito Puente's "Picadillo Jam," as well as recent compositions like the salsa/songo "Dance," in which daughter Sheila and father Pete share the microphone on Spanish- and English-driven lyrics.
This album has plenty of fresh arrangements, brilliant improvisations, and abundant percussion solos, which are beautifully constructed the way that only collective performance throughout decades can: the feel of a reunited family. Pete Escovedo is on timbales, Juan Escovedo on congas, and Peter Michael Escovedo on the drumset. Daughter Sheila appears in just a couple of songs, which makes her presence even more meaningful in this production, where she is also co-producer along with her father. A fundamental addition to this already wonderful mix is the guest appearance of trumpet-genius Arturo Sandoval on the closing track, "Sueños de los toreros," where he contributes to the grand finale of this amazing concert. In general, this album is a masterful and all encompassing sample of the renewed classic sound of Latin jazz in the 21st century.
Following is a video-trailer from the concert, featuring "Picadillo Jam" and "Dance."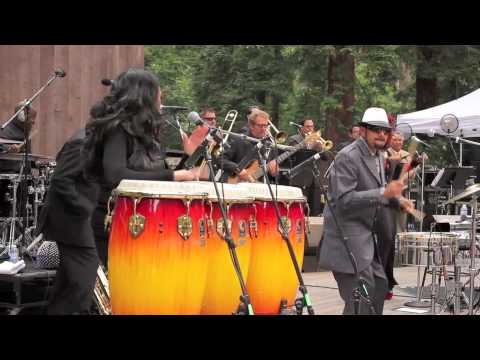 Reviewed by Juan Sebastián Rojas E.