Artist: Nona Hendryx & Gary Lucas
Title: The World of Captain Beefheart
Label: Knitting Factory
Formats: CD, MP3
Release Date: November 10, 2017
If there are artists worthy enough for a Captain Beefheart tribute collaboration, it is the artistic duo of Nona Hendryx and Gary Lucas. The pair first beefed it up in 2013 with The Metropole Orchestra at Amsterdam's Paradiso during an event produced by Dutch journalist and radio presenter Co de Kloet. Four years and multiple hours of creativity later, The World of Captain Beefheart makes its way towards a triplicate fan base for all three musicians—Don Van Vliet, Gary Lucas and Nona Hendryx.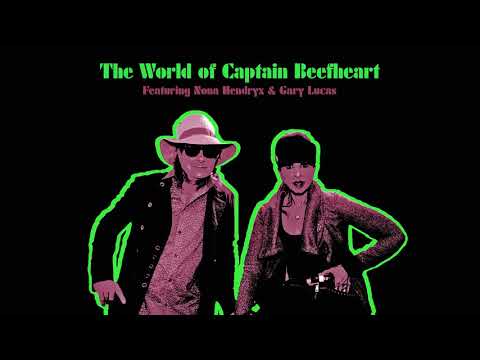 Don Van Vliet, aka Captain Beefheart, first grabbed the public's attention with his cover of Bo Diddley's "Diddy Wah Diddy," capitulating his gritty blues style to an interview on American Bandstand in 1966 and an appearance on ABC's "Where the Action Is".  Soon after, Captain Beefheart and the "Magic Band"—whose members differed throughout the years but most notably of musicians Gary Lucas, Jeff Cotton, Bruce Fowler and Victor Hayden—released their first album, Safe as Milk, in 1967.
While many envisioned him as the next blues frontman, Van Vliet had other ideas. His strong interest in experimental, avant-garde sounds—fostered alongside his longtime friend Frank Zappa—would lead him to worldwide notoriety as one of the most singular voices and uncompromising composers in popular music, a trail-blazing maverick who single-handedly changed the face of popular music as we know it. His music combined Delta blues, free-jazz, and proto-punk rock with surrealist imagery, ecological obsession, and ironic humor.
During his 30+ year career, Van Vliet explored musical and lyrical territory never before charted in the confines of a traditional electric band line-up. His was a unique and unforgettable sound which proved highly influential on the first wave of punk and new-wave pioneers including John "Rotten" Lydon, Joe Strummer of the Clash , and Talking Heads' David Byrne, as well as seminal artists such as David Lynch, Laurie Anderson, Ed Ruscha, Julian Schnabel, and Matt Groening. Captain Beefheart/Van Vliet retired from the music scene in 1982 to concentrate on his painting career before passing away from complications of MS in 2010.
Gary Lucas first made his mark as a visionary guitar player on the final last two Beefheart albums, Doc at the Radar Station (1980) and Ice Cream for Crow (1982). A world-renowned instrumentalist and Grammy-nominated songwriter and composer, Lucas has released over 30 acclaimed albums in a variety of genres. Gary also collaborated most significantly with the late Jeff Buckley, co-writing "Grace" and "Mojo Pin", the first two songs on Jeff's 2-million selling "Grace" album.
Nona Hendryx is a longtime fierce admirer of Don Van Vliet's music, and possesses the huge voice and the commanding stage presence necessary to do full justice to repertoire that originally featured Beefheart's unforgettable multi-octave voice. Although she's best known as a funk/soul great thanks to her long tenure with international hitmakers Labelle (as well as the group's antecedent, Patti Labelle and the Bluebelles) in addition to her own excellent R&B solo outings, she is no stranger to experimental rock territory, having been featured as guest vocalist with cutting-edge ensembles including the Talking Heads, Bill Laswell's Material, and Jerry Harrison's Casual Gods.
The World of Captain Beefheart is an album that truly speaks for itself. "Sun Zoom Spark" opens the tribute, proving that in the Beefheart world, Hendryx has vocals worthy of the Captain's raspy legacy. Other classics such as "When It Blows Its Stacks" and a moving rendition of "My Head Is My Only House Unless It Rains" cement the pair's project worthiness. Ably supporting Lucas and Hendryx are expert practitioners of Beefheartian music: bass player Jesse Krakow and drummer Richard Dworkin. Both are veterans of Fast 'N Bulbous, Lucas' free-jazz instrumental outfit that specializes in repertoire from the Van Vliet canon. Completing the lineup is keyboardist Jordan Shapiro, who has played with Lucas in his long-running avant-rock crew, Gods and Monsters.
A visionary and lyricist with unrelenting perseverance, artist Don Van Vliet is deserving of every expertly offered chordal riff Lucas and Hendryx have to give us. Through their dedication and respect to his craft, Captain Beefheart will live on in the hearts and souls of his fans forever, both long-standing and contemporary alike.
Reviewed by Amy Aiyegbusi