That special time of year has come around again, filling everyone with holiday cheer. But nothing has the ability to spread Christmas spirit quite like music does. Following are brief reviews of what we believe to be the best holiday albums so far this year, featuring releases from Keb' Mo', Jazz at Lincoln Center Orchestra, The McCrary Sisters, Elijah Blake, Jonathan Butler, and Mariah Carey. We hope these selections provide the perfect soundtrack for everyone's holiday season.
Title: Moonlight, Mistletoe & You
Artist: Keb' Mo'
Label: Concord
Formats: CD, LP, Digital
Release Date: October 18, 2019
First up on our holiday albums list is Moonlight, Mistletoe & You, by four time Grammy award winner, Keb' Mo'. Produced by Keb' himself, the album is his first holiday project: "After 25 years of performing without releasing a Christmas album, I felt now was a good a time as any to spread some love and compassion." Showcasing Keb's diverse talents, his blues roots shine in the songs "Santa Clause Santa Clause," "Santa Blues," and "I've Got My Love to Keep Me Warm." In his amusing track, "Christmas is Annoying," Keb' beautifully illustrates both the joy and the irritation that the holidays bring, but he doesn't forget to keep it a bit "traditional" with his holiday romance tracks, "One More Year With You," and the title track, "Moonlight, Mistletoe, and You."  Keb' Mo's album does a great job of evoking the Christmas spirit, while keeping it original, diverse, and fun.
Title: Another Kind of Christmas
Artist: Ne-Yo
Label: Motown
Formats: CD, Digital
Release Date: October 11, 2019
R&B star Ne-Yo's his first holiday album, Another Kind of Christmas, features soulful holiday classics like Stevie Wonder's "Someday at Christmas," Donny Hathaway's "This Christmas," and Marvin Gaye's "I Want To Come Home For Christmas," along with several of his own original holiday tracks. These include "Talk About It," a retelling of the inevitable family drama that occurs around the holidays, "Just Ain't Christmas," a song detailing a painful Christmas Eve breakup, and "Open Mine Tonight," a Christmas track for the adults, describing Ne-Yo "unwrapping" his Christmas present while the children are sleeping. The album also features guest artists Candice Boyd on "Carol of the Bells" and RaVaughn on "Someday at Christmas," both of whom had been signed to Ne-Yo in the past. Another Kind of Christmas is a high quality project that is sure to impress, perfectly combining Ne-Yo's unique musical brand with the holiday season.
Title: Big Band Holidays II
Artist: Wynton Marsalis, Jazz at Lincoln Center Orchestra
Label: Blue Engine
Formats: CD, LP, Digital
Release Date: October 25th, 2019
A sequel to their beloved holiday album from 2015, Jazz at Lincoln Center's Big Band Holidays II features artists that perform live with the JLCO and Wynton Marsalis. Many popular Christmas songs make a return in this album, such as "It's the Most Wonderful Time of the Year," "Silver Bells," "Silent Night," and "We Three Kings," all with new jazz arrangements that help articulate the Christmas spirit the songs originally expressed.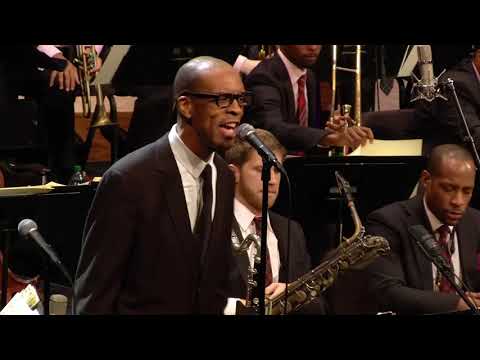 Guests include many prominent new voices in jazz, such as Catherine Russell, Veronica Swift, Denzal Sinclair, and Audrey Shakir. Additionally, the late Aretha Franklin is featured in a never-before-released rendition of "O Tannenbaum" from her surprise appearance at the Big Band Holiday Concert in 2015. Singing in a mixture of English and German, Aretha accompanies herself on the piano in an acoustic performance that is sure to delight new listeners. Moreover, all of the tracks feature instrumental improvisations from amazing soloists on various instruments. This album is a must-listen for lovers of live performances, jazz, and great Christmas classics.
Title: A Very McCrary Christmas
Artist: The McCrary Sisters
Label: Rounder
Formats: CD, Digital
Release Date: November 15, 2019
The McCrary Sisters' first Christmas album, A Very McCrary Christmas, is a collection of their favorite holiday songs. The acclaimed gospel quartet's album is almost entirely comprised of well-known Christmas hymns that wonderfully showcase the groups' soulful, gospel roots. The McCrary's renditions of classic Christmas songs like "Go Tell It On the Mountain," "Oh Come, All Ye Faithful," "O Come, O Come Emmanuel," "O Holy Night," "Joy To The World," "Silent Night," and "What Child is This?" are infused with gospel elements, along with influences from jazz and R&B.
Though the group's faith is portrayed fully through the music, the diversity of the arrangements allows for any listener to enjoy. "We said we want to do traditional songs, but with a different feel…We don't like only gospel. We were allowed to listen to any kind of music we wanted to." Additionally, the album includes many guest artists, including Keb' Mo', Alison Krauss, Pastor Shirley Caesar, Steve Crawford, Jerry Douglas, and Buddy Miller. The individual talents of all the singers, as well as the combination of their voices allows the album to shine. These songs are staples of the Christmas season, and the McCrary sisters do a fantastic job of bringing back that nostalgic holiday cheer throughout this album.
Title: Holiday Love
Artist: Elijah Blake
Label: Rkeytek Music
Formats: Digital
Release Date: November 8, 2019
Yet another first-ever Christmas album from this list is offered by two time Grammy award winning artist Elijah Blake. His Holiday Love is comprised of a much loved classic, "This Christmas," plus six original tracks. Blake's inspiration for this album came from Mariah Carey, the reigning holiday music icon, making her own appearance later on in the list. Blake thought it was important to include songs for any situation one may be in, as the holidays can be harder for some more than others. This inspired him to write "Christmas By Myself" and "Misty Jones" for those who are alone, "Fire Kissed the Rose" for those who have lost loved ones, and "Snowed In" for anyone seeking more 'quality time' with their significant other. He switches things up a bit with "5 Gold Rings," a trap style Christmas track for the younger generation, and "Sweet Love" for the older folks looking for something with a bit of a modern twist. And of course, "This Christmas" is a Christmas standard that everyone can enjoy.
Title: Christmas Together
Artist: Jonathan Butler
Label: Gallo
Formats: CD, Digital
Release Date: October 4, 2019
South African singer and guitarist, Jonathan Butler, is back with his second holiday album, Christmas Together. This release is truly a celebration of togetherness, as Butler invited many of his musician friends to perform along with him. "Christmas is family and friends. It's about being all together. So, I called my friends – all these amazing players – Sheléa, Dave Koz, Keiko Matsui, Kirk Whalum and so many others – and every one of them simply said, 'Just say when you want me and where you want me and I'll be there!' They brought their love and their spirit into my home and I was honored." This collaboration results in an album full of some of the most classic Christmas songs, with the singers and instrumentalists each adding their own unique qualities to the tracks, creating a rich and cozy holiday atmosphere you can't get anywhere else. Christmas Together is an album that everyone can enjoy, perfect for the times spent with loved ones.
Title: Merry Christmas Deluxe Edition
Artist: Mariah Carey
Label: Sony Legacy
Formats: CD, Digital
Release Date: November 1, 2019
Last but certainly not least, in celebration of the 25th anniversary of the original release of the album, the multiple Grammy award-winning artist Mariah Carey offers Merry Christmas: Deluxe Anniversary Edition. The original album is a holiday staple, but this deluxe edition offers new songs, bonus material, remixes, and more. Included in the two-disc set is Mariah's archived performance at The Cathedral of St. John The Divine, performed on December 8, 1994 in New York City.
Additionally, Mariah delivers an unreleased, modernized version of "Sugar Plum Fairy," enchanting the listener with her glassy whistle tone that floats over the highly recognizable Christmas tune, showcasing her still incredible vocal range. Expanding the album even more is the never-before-released (in the U.S.) "God Rest Ye Merry Gentlemen," the Golden Globe nominated song "The Star," "Lil Snowman," and "When Christmas Comes" with John Legend. The holidays really wouldn't be the same without Mariah Carey's Merry Christmas, and now it returns this year bigger and better than ever before.
Reviewed by Jared Walker