Title: Hidden In Plain Sight: Vox Maximus, Vol. 1.
Artist: Naturally 7
Label: Hidden Beach
Formats: CD, MP3
Release date: February 10, 2015
Hidden In Plain Sight: Vox Maximus Vol. 1. is the U.S. debut album for a cappella all-star group, Naturally 7. Musical director and group member Roger Thomas formed Naturally 7 in 1999 in New York City with his brother and a few other singers they met performing around the area. The group, who coined a term for their approach to a cappella singing called "vocal play," is a seven-man team of vocalists representing a variety of instruments—guitar, turntables, bass, drums, harmonica and brass—using only the most powerful natural instrument, the voice. This dynamic group has garnered international success—their album Ready II Fly (2006) charted in Australia and France—and has begun to make their mark on the U.S., most notably through a breakout performance on The Ellen Show in 2008, opening for Michael Bublé on his last two international tours, and appearing in two Cheerios commercials at the end of 2014. While they've released six studio albums and two Christmas albums, Hidden in Plain Sight is their first U.S. release. As in their live shows, the album showcases Naturally 7's harmonic prowess as well as their artful arrangements and compositions.
Hidden in Plain Sight is a compilation of covers, samples, musical mixes that Roger Thomas calls "hybrids," and original songs. The lead single and one of the most thrilling tracks on the album is "Fix You," a cover of Coldplay's 2005 release from their album X&Y.  A staple of Naturally 7's live performances, the song offers a unique harmonic presentation along with the group's vocal instrumental interpretations.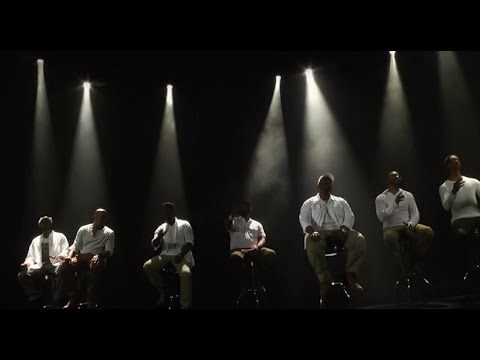 On "Mahalia," Naturally 7 includes a sample of Mahalia Jackson's "Trouble of the World," adding their own spin on this tribute to the gospel singer. Most notable, however, is their sample of Queen's "Bohemian Rhapsody" (from A Night at the Opera, 1975) on the track "Galileo," making them the first to successfully sample Queen. "Hybrids" are songs that take previously recorded songs by other artists and either use the music or sonic ideas as the basis for a new Naturally 7 song. These include the lush "Moments (I've Been Loved)" based on Art of Noise's "Moments in Love" (1983) and "Life Goes On" based on Wham's "Everything She Wants" (1984).
Hidden in Plain Sight begins and ends with two compositions "Tempus Fugit (Motus I)," Latin for "time flies," and "Eppur Si Mouve (Motus V)," Italian for "And yet it moves." These operatic themes envelope the rich material of the album, and the operatic characteristics are sprinkled throughout the other songs on the album. Among the original compositions, highlights include one of the album's most popular songs, "Keep the Customer Satisfied," an energetic tune that has all of the rhythmic and harmonic R&B elements to make for a thrilling performance. Another notable original, "Rhapsody of the Queen," layers semi-operatic singing with pulsating rhythms. Also particularly appealing is the dance track "Need You With Me," as well as "Run Away," a ballad that is placed brilliantly towards the end of the album.
Hidden in Plain Sight is a breath of fresh air. Naturally 7's brand of "vocal play" truly highlights the versatility of the human voice and the melodies will stay with you long after the music has stopped.
Reviewed by Christina Harrison