Title: 20 Feet From Stardom
Director: Morgan Neville
Studio: Anchor Bay
Formats: DVD, Blu-Ray, Streaming (91 min.)
Release date: January 14, 2014
The Academy Award nominated documentary 20 Feet From Stardom, about legendary female backup singers, received a very limited theatrical release and regrettably was never screened in our city.  Thankfully it's now available on DVD, and well worth the purchase.  Here's a brief summary in case you missed the flurry of reviews when the film was released last summer.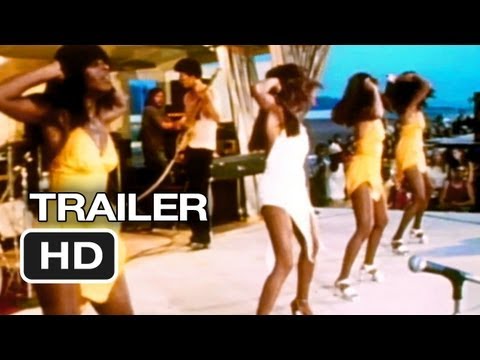 Though some may be drawn to this documentary by the participation of rock stars such as Mick Jagger, Sting, Bruce Springsteen and David Bowie, the story is centered around the singers they hired to bring a little something extra to the songs—a little soulful seasoning—or more to the point, a bit of blackness (the latter more openly acknowledged by Jagger).  Highlighting the stories behind a dozen or so women from different generations, the film's primary stars are, in order of seniority: Darlene Love (best known for her early recordings with producer Phil Spector), Merry Clayton (one of Ray Charles's Raelettes who later became famous for her vocals on "Gimme Shelter"), Lisa Fischer (a Grammy Award winning soloist who has toured with the Rolling Stones since 1989), and heir apparent Judith Hill (selected as  Michael Jackson's duet partner for the fateful "This Is It" tour). Not surprisingly, all of the women got their start singing in church and, though subtle, there's an underlying thread about the influence of gospel music in the development of R&B vocal styles.
While the film's official synopsis focuses on the singers' "triumphs and heartbreaks," the biggest takeaway is the sheer vocal prowess and artistry of these women and their innate ability to harmonize, improvise, melisma-tize (and in some cases, dramatize), all without benefit of that modern-day scourge known as "tuning." Clayton and Love are endlessly entertaining (especially in their efforts to upstage each other in the bonus feature), and Hill gets quite a bit of screen time towards the end as she attempts to embark on a solo career. Lisa Fischer, however, was far and above my personal favorite, showcasing a vocal and stylistic range and artistry few singers can match (her whistle register rivals Minnie Ripperton's). Observing her transformation from a now middle-aged, unassuming and rather cerebral woman into a rock goddess onstage was also rather fascinating.
20 Feet From Stardom will appeal to fans of R&B and rock music, anyone in the recording industry, and of course singers—especially those who specialize (or are hoping for a career) in popular music. These women cut their teeth in the studio trenches, and their collective wisdom and vocal chops are a thing of wonder. Now, after several decades of adding "depth" to rock, pop, country and R&B songs, they're finally getting their due.
Reviewed by Brenda Nelson-Strauss