Title:   Medicine
Artist:  Tab Benoit
Label:  Telarc
Catalog No.:  Tel-32823-02
Formats: CD, MP3
Release date:  April 26, 2011
–
Contemporary Cajun guitarist, singer-songwriter Tab Benoit may be best known as a master of the blues (he won the B.B. King Entertainer of the Year in 2007), but he "continues to explore the bayou backbeat," drawing on the best Cajun, swamp pop, R&B, country, and rock talent in Louisiana to extend the boundaries of his palette.  On his latest album, Medicine, he enlists keyboardist Ivan Neville and drummer Brady Blade to anchor the rhythm section, with additional guests Corey Duplechin on bass, and BeauSoleil's Michael Doucet adding fiddle and vocals on three tracks. Co-producer Anders Osborne, who also co-wrote seven of the songs, joins Benoit on vocals and guitar, performing half the album using B.B. King's famous guitar "Lucille."
Recorded at Louisiana's famous Dockside Studio in the heart of Cajun country, the album primarily features live first takes, free of the excessive editing found on most contemporary projects. When asked about the title, Benoit responded "Let music be the medicine – like John Lee Hooker once said, 'Blues is the healer."  The title track riffs on this theme: "I need my medicine, baby" punctuated by extended sections showcasing the blazing guitar work of Benoit and Osborne.
Of the 11 tracks on the album, one of the standouts is "A Whole Lotta Soul," featuring Ivan Neville on the Hammond B-3 with Benoit reflecting upon recent the tribulations and triumphs of the delta region (used as the soundtrack to the official album video):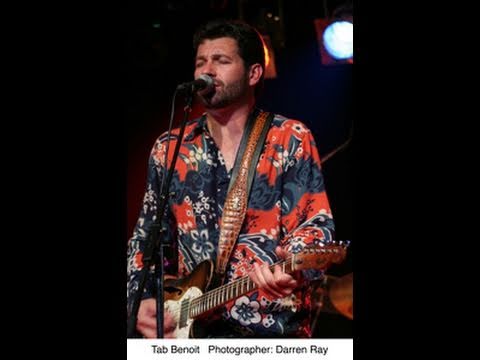 These regional themes play out again on the haunting ballad "Long Lonely Bayou," featuring a delicate interplay between Doucet's fiddle and Benoit's soulful vocals, while the rocking "In It to Win It" references sugar cane fields, snakes and gators (it should come as no surprise that Benoit has worked diligently to save the wetlands that he so obviously reveres).
Overall, this is a great album to accompany summer evenings hanging out on the back porch while eating some pulled pork or fried catfish, drinking ice cold libations, and dancing the night away.  The hard rocking blues punctuated by Cajun fiddling definitely create a gumbo unique to Benoit and his delta roots.
Reviewed by Brenda Nelson-Strauss