Title: The Devil and the Diamond
Artist: Matuto
Label: Motema
Formats: CD, MP3
Release date: May 14, 2013
Matuto, a New York-based music project that blends Afro-Brazilian popular music and Appalachia-driven Americana, brings us twelve songs that provide a unique sonic experience in the album The Devil and the Diamond. Accordionist Rob Curto and bluegrass/jazz guitarist Clay Ross manage to create a space in which both the traditions of North American grassroots folk music and Recife's forro and choro meet. This soulful musical stew, which tastes as if it had been cooking for generations, has been served by this group at festivals and concerts in West Africa, Europe, and across the United States.
The sound resulting from Matuto's lab is a mature blend which seems to expand and update the musical legacy of MPB (Música Popular Brasileria), refreshing the relationship that for so many decades has existed between U.S. American folk musics and Brazil's own musical heritage. Since the mid-20th century, Brazil's popular musics, such as samba, choro, forro and bossa-nova, have been strongly influenced by US American popular musics. However, in the late 1960s and 1970s, a new musical movement emerged called MPB, which emphasized these traditional languages but with a stronger influence from North American genres, such as jazz, rock, folk, or pop. With world-class music figures such as Chico Buarque and Jorge Ben, MPB is probably one of the most listened to Brazilian styles around the globe. Even though guitars, fiddles and accordions are as recognizable to Braizilian audiences as they are to US American ones, Matuto seems to have taken this relationship to the next level.
Because of their historic relationship, MPB and American popular styles share common grounds, but also because of this history, they have their own separate identities. Matuto breaks that barrier by bringing together what had been kept separate, so far, by using exclusively English lyrics. Songs such as "Diamond" (track 2), present vocal styles and arrangements that resemble some kind of indie rock/funk atmosphere, which is supported by a samba-rock groove and violin improvisations that sound like a Santana electric guitar solo. "Drag Me Down" (track 8) is an interesting melding of Delta blues accordion with berimbau (a wire-stringed musical bow used to perform capoeira music) and pandeiro (Brazilian tambourine) lines that come from the traditional samba de roda styles, mixing together two very old traditions from the Black people of Northeastern Brazil and Southern United States.
These two songs, though, are just a small sample of the many musical shades that Matuto has ready for you, ranging from pop to straight-up samba beats. The following video is a sample of their most jazzy stuff (performed at the Kennedy Center) and their heavy forro beats (at the RecBeat Festival in Recife, Brazil):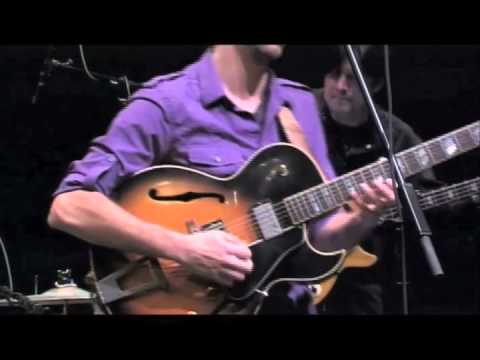 Reviewed by Juan Sebastián Rojas E.