Title: Marley
Format: DVD/Blu-Ray (145 min.)
Label: Magnolia Home Entertainment
Release date: August 7, 2012
===================================
Title: Marley: The Original Soundtrack
Artist:  Bob Marley & the Wailers
Formats:  2-CD or 3-LP set, MP3
Label: Island Def Jam/Tuff Gong
Release date:  April 17, 2012
There may be numerous books, articles, and documentaries detailing the life of Bob Marley, but Kevin MacDonald has directed something so unique that previous attempts at portraying the reggae superstar pale in comparison. For it is in Marley that one gains a much more personal understanding of Bob not only as a musician, but rather as a man.
With the beautiful panoramic images of the Jamaican countryside and more specifically of St. Ann, Marley's birthplace, the stage is set for the story of Bob's humble beginnings. With a white father and black mother, the mixed-race Marley was practically ostracized from the rest of society. Interviews with early friend Bunny Wailer, along with Marley's mother and other family members, help to detail what he experienced, and how through music he was able to overcome this racial stigma.
As Marley continues, interviews with an exhaustive list of individuals ranging from family to fellow musicians and producers provide an all-encompassing look at the man behind the music. This is where the documentary strays from previous attempts—Bob's life is not told simply through narration, but is instead explained by those who were closest to him, offering many new insights. Various musicians make appearances, including the reclusive Lee "Scratch" Perry, who surprisingly stays on topic for much of the time spent onscreen. Also included are fellow band members Aston Barrett, the back-up vocals of the I-Threes, and Junior Marvin, among others.  Interesting facts about Bob are unearthed—his love of soccer and cricket, his attention to physical fitness—all of which added to his personality. In recollections about his attitude as a father, his children from wife Rita humorously recall him racing as fast as he could against his own kids, refusing to let up even the tiniest bit. It is these insights into the life of Bob Marley that the documentary achieves so well, allowing viewers to form a very close understanding of him, beyond just the music.
Following is the official trailer for Marley: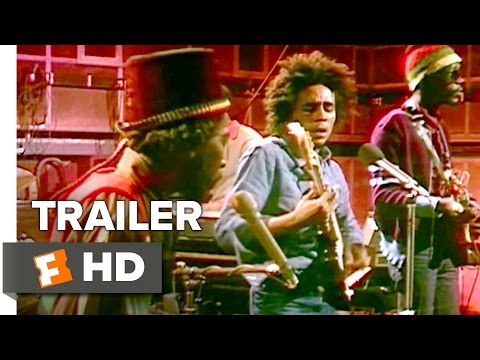 Plenty of footage is devoted to Marley as a serious musician, and to the message of peace, love and equality that he spread throughout the world with his music. The accompanying soundtrack aptly mixes the Wailers' music and philosophy as the documentary progresses through Marley's life. (The soundtrack album, available on CD and vinyl, includes a mix of studio and live performances spanning Bob's entire career, from an aspiring solo artist in the early 1960s to his reformation of the Wailers in the mid-1970s to his final performances in the late 1970s). There is a very interesting point in the documentary in which Bob's half-brother and half-sister give a listen to "Corner Stone," a song that describes the feelings of rejection by Marley's white father. Needless to say, it's truly something special. From his attempt at ending political violence between the JLP and PNP to celebrating African independence in places like Zimbabwe, peace, love and equality was always his focal point. Black unity across the entire diaspora is emphasized just as much in the documentary. For example, through interviews we learn of the sadness that Marley felt when playing concerts to a mostly white crowd. The time that Bob dedicated and sacrificed to this cause unfortunately ends too soon. In 1981 Marley passes—he was only 36.
As the film ends with clips of Jamaicans mourning Marley's death and the credits roll, there is a very touching series of vignettes showing that Marley's message of peace, love and equality continues to be a driving force throughout the world, thus achieving his greatest wish. From Zimbabwe to Jamaica to India to Ethiopia to the UK to the USA to India to Brazil to Japan and everywhere in-between, murals and images of Bob Marley are still extremely important to people, over 30 years after his death. This is the greatest message of the documentary—Marley's music has indeed created an interconnectedness that will carry well into the future.
Reviewed by Ian Hallagan