Title: Afrodeezia
Artist: Marcus Miller
Label: Blue Note
Release date: March 17, 2015
Marcus Miller's Afrodeezia, which debuted at #1 on both the iTunes jazz and contemporary jazz charts, is proof that the veteran bassist is still a force to be reckoned with in the contemporary jazz scene.  As its title would indicate, Afrodeezia is heavily laden with musical influences from Africa and the African Diaspora. Miller writes in his promotional blog that much of this album is inspired by his visits to the continent and experiences playing with African musicians. He incorporates elements of African, Caribbean, and other diasporic musical styles, meshing them with contemporary jazz and crafting a compelling worldbeat sound throughout the course of this album.  This world music-driven approach is evident on "Hylife," Miller's approximation of West African highlife music as fashioned by King Sunny Ade, on "B's River," a track featuring a gimbiri (an African relative of the bass guitar), and on "Water Dancer," which incorporates elements of African music and zydeco into Miller's signature jazz idiom.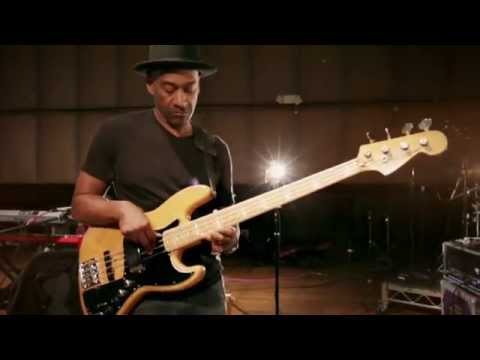 Miller takes perseverance as his theme for this record, citing the historical struggles that black people have experienced as the impetus for a number of the Diaspora-oriented tunes on this album. He further connects this theme to more contemporary subjects, with the album's final track, "I Can't Breathe," serving as Miller's contribution to the evolving national discussion of police violence against African Americans. This track has an electro-funk groove with Public Enemy's Chuck D rapping that it is "never good when you're breathing in fear." Miller incorporates traditional African instruments and American instruments against a techno background, consciously evoking Pan-Diasporic musical conventions in order to capture the universal nature of the struggle for social justice.
This album also takes a number of personal turns. "Preacher's Kid (Song for William H)" is an organ-infused number that Miller dedicates to his aging father, a pastor, who is struggling with Alzheimer's disease. "We Were There" is a Brazilian-flavored tribute to Miller's late friends, George Duke and Joe Sample, and "Son of Macbeth" (which features a searing steel pan solo by Robert Greenridge) is in honor of Ralph McDonald, a key figure in Miller's own entry in the music business.
Afrodeezia is one of Miller's most conceptually heavy albums to date. Even when he brings the funk on The Temptations' "Papa Was a Rolling Stone," Miller carefully connects this to a broader diasporic musical sensibility.  However, Miller's extramusical associations and intellectual bent never seem labored; rather, the listener gains a broader sense of context through Miller's sonic explorations and thoughtful writing about this music.  Afrodeezia is a deeply personal, at times cerebral, album from one of the foremost bass guitarists working in the contemporary jazz scene.
Reviewed by Matt Alley