Title: Love, Peace and Soul
Artist: Don Byron New Gospel Quintet
Label: Savoy Jazz
Formats: CD, MP3
Release date: February 21, 2012
Jazz clarinetist and saxophonist Don Byron has released a project Love, Peace and Soul aimed at celebrating gospel music. With the newly formed Don Byron New Gospel Quintet, Byron explores the music of gospel icons Thomas A. Dorsey and Rosetta Tharpe (who is also noted for her influence on the development of rock music). The primary members of the quintet include vocalist DK Dyson, Xavier Davis on piano and background vocals, Brad Jones on bass and background vocals and Pheeroan Aklaff on drums. However, the talents of guitarist Vernon Reid, vocalist Dean Bowman, trumpeter Ralph Alessi, and JD Parran on baritone saxophone are also featured on this project. While Byron is noted for his innovative interpretations of musical styles ranging from Western classical arias to the soul music of Junior Walker, he states that he "feel[s] a deep spiritual connection to gospel that transcends just about everything else."
Upon approaching this album, I had my assumptions about its sound and content. I have heard several artists work to merge the sounds of gospel with the aesthetics of jazz, most often within instrumental settings. However, Love does not conform to these conventions. This project includes a vocal component, ensuring that the gospel text as well as the sound is the focus. To be clear, this project is not a simplistic collection of covers. Rather, with gospel songs as the framework, Byron and his band work to conserve much of the original melodies while also improvising around them. Byron's impressive musical sensibilities are particularly present as he crafts his solos and accompanies the vocalists.
Dyson is competent as the lead singer, with her best contributions featured on slower ballads. For instance, "Take My Hand Precious Lord" begins with her calm, prayerful voice in a duet of sorts with Byron on alto sax. He vacillates from playing snatches of the melody to including quick tempo rifts in accompaniment to the vocal line. In this setting, Dyson's voice rings clear with warm resonance. Her timing and ability to effortlessly shift vocal registers and timbres is a perfect match for the "laid back" tempo and at times understated instrumentation.
One of the most musically interesting, yet simple, pieces on this album is "Beams of Heaven," written by the celebrated African American hymn writer Charles A. Tindley and later popularized by Rosetta Tharpe and Marie Knight. Dyson's rendition is reminiscent of Tharpe's original recording as they both feature steel-stringed guitar picking as an element of accompaniment. However, Byron's inclusion of clarinet in the accompaniment adds an element of interest. The warmth of this reed instrument provides a complimentary contrast to the more abrasive guitar. Through his instrumentation, Byron manages to capture glimpses of a rural country sound without straying too far from the "cleaner" jazz sound that characterizes the other songs on the album. In the same vein, while Dyson's vocal approach is decidedly less aggressive than Tharpe's, Dyson's cool finesse is more fitting for this new interpretation.
Following is a performance of "Hide Me in Thy Bosom" from WYNC Live on Soundcheck: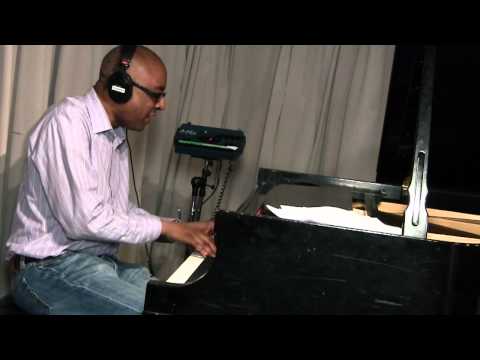 Given their shared ancestry in the blues, the musical marriage of gospel and jazz is not foreign. This common musical history is most pronounced here in the selection "Consideration" which features a steady "rocking" swing alongside gospel honed rhythms and chords.  As witnessed here, the relationship between jazz and religious music has long been recognized. In the late 1930s, John Hammond organized a few concerts called From Spirituals to Swing which would feature the music of performers like Count Basie and his Orchestra, the Gold Gate Quartet, and even Rosetta Tharpe. Later, gospel would have a more direct effect on jazz during the 1950s with the emergence of what is now called hard bop. And more recently, there have also been several jazz musicians, such as Kirk Whalum, who have been recording gospel songs as well as gospel musicians who have been heavily influence by jazz aesthetics and harmonic sensibilities.  In this light, it seems that Byron is continuing a tradition of musical sharing between jazz and gospel musicians. Love, Peace, and Soul is a nice addition to this ongoing conversation as Byron pays homage to two well-deserving musical legends.
Reviewed by Raynetta Wiggins