Title: Live in Memphis
Artist: Vincent Tharpe and Kenosis
Label: One Voice Media
Formats: CD, MP3
Release date: August 24, 2011
I'll bless the Lord at all, all times
And His praises shall be in my, in my mouth continuously
With my hands, I'll lift Him
With my feet, I'll bless Him
With my voice, I'll praise Him
With everything in my, I'll thank Him
Thank you Lord for all He's done for me
Referring to well-known parts of Psalm 34 from the Bible (above), Vincent Tharpe and Kenosis (VTK) put worship messages in the contemporary gospel song "Thank You Lord," the single from their debut album, Live in Memphis. The high-energy song, which has earned many positive reviews for this new gospel group, features beats that you can't help but clapping hands and dancing along with: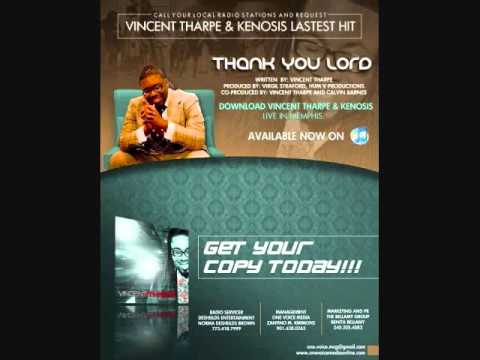 VTK was formed from the Craigmont High School Gospel Choir in Memphis, where Vincent Tharpe served as choir director. In January 2009 the group signed to One Voice Management, which provided VTK with opportunities to bring their musical worship to a wider audience. Since then, they have performed at the 2009 Pre-Dove Awards Showcase in Nashville, during the 2012 Stellar Award weekend at the Yes Lord Radio anniversary party, and on BET's Bobby Jones Gospel program.  They have also been featured on the same stage with well-known gospel musicians such as Trinitee 5:7, Bishop Leonard Scott, Kierra Sheard, Kurt Carr and the Kurt Carr Singers, Vanessa Bell Armstrong and many more.
On the opening track of Live in Memphis, "Faith" tells us that having faith gives us the power to make it through the hard times in life.  "Jesus the Great" is a praise and worship song that flows with beautiful melodies.  Slower worship songs like "Teach Me," "You Are God" and "He Will" showcase the vocal talents of the group, as their harmonies move us to a place of calm and deep worship. Over rhythmic finger-snapping, Tharpe and the choir smoothly sing "Close to You" as if they are having a close conversation with Jesus in the same room.  "Mighty God" and "Be Alright" are dancing worship tunes with funky beats, while "He Keeps Blessing" fuses very fast rhythms and crisp vocals with a traditional gospel music flavor.
Live in Memphis provides a variety of music for worship, and with their powerful vocal abilities Vincent Tharpe and Kenosis should have many opportunities in the future to reach new audiences.
Reviewed by Yukari Shinagawa