Title: Listen Whitey! The Sights and Sounds of Black Power 1965-1975
Author: Pat Thomas
Publisher: Fantagraphics
Format: Hardcover book, 224 pages
Release date: March 5, 2012
===================================
Title: Listen Whitey! The Sights and Sounds of Black Power 1965-1975
Artists: Various
Label: Light in the Attic
Formats: CD, MP3
Release date: February 28, 2012
Listen Whitey! The Sights and Sounds of Black Power 1965-1975 truly lives up to its name. A beautifully designed coffee table book, Listen Whitey! is Pat Thomas's attempt at producing a "definitive catalog of Black Power-related recordings." While there are definite problems with his portrayal of the book as a historical work due to both his lack of academic credentials and the lack of citations, it's certainly more than worthwhile to put aside those concerns and enjoy the book for what it is: a visual feast and a record collector's delight.
The glossy pages of this extremely readable popular history of music in the Black Power Movement are filled with amazing, never before compiled, full-color scans of rare records, album art and advertisements (see the book trailer). What really makes the contents of the book come alive, however, is the companion CD (sold separately). It's one thing to read about these unreleased and rare records, but listening to them is a whole other experience.
Thomas describes the CD as "the soundtrack" to the text. Again, Thomas refers to the music he has selected as "essential," but it feels much more apt to listen to this fantastic compilation as a mixtape of his Black Power favorites. Luckily, he has an amazing ear and almost every one of the sixteen tracks shines equally bright. The only songs that aren't exactly up to par come from outside of the Black Power movement―Bob Dylan's "George Jackson," "Angela" by John Lennon and Yoko Ono, and Roy Harper's "I Hate the White Man." It's not that these tracks are bad, they just pale in comparison to the amazing, rarely heard, radical pieces from the Black community (no pun intended).
Eddie Harris' version of his song "Silent Majority" from his album Live at Newport is a perfect vision of the political song, with witty lyrics that pointedly call out the powers that be, set to an incredibly infectious, jazzy beat and with the force and energy only found in live recordings. Marlena Shaw's "Woman of the Ghetto" has the same raw energy and lays out the plight of Black women over a smooth, powerful groove. Perhaps the most striking song is not an unknown one, however, but rather the rare, solo version of Gil Scott-Heron's "Winter in America" that is so engagingly beautiful and simple that it sounds like a brand new song.
Following is the official trailer for the CD: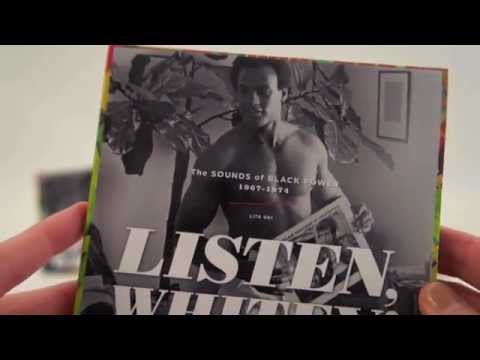 Listen Whitey! has more to offer than just music. There are excerpts of speeches on Huey P. Newton by Stokeley Carmichael; of political comedy routines by Dick Gregory; a very historically intriguing speech by Eldridge Cleaver given in Algeria on the future of relations between the Black Panther Party and Timothy Leary; not to mention fantastically political and experimental spoken word pieces like Amiri Baraka's surprisingly catchy "Who Will Survive American" and The Watts Prophets "Dem Niggers Ain't Playing." Overall, Listen Whitey!, both book and CD, will be superb additions to the collections of anyone interested in radical politics, or African American music of the 1960s and '70s, if they are willing to accept the aforementioned flaws and focus on the exciting primary source material of photos and recordings.
Reviewed by Dorothy Berry