Title: Leaving Eden
Artist: Carolina Chocolate Drops
Label: Nonesuch
Catalog No.: 529809-2
Formats: CD, MP3
Release Date: February 28, 2012
Cutting to the chase, this is an excellent album, probably the best new recording I've encountered so far this year.  It is fresh, original, imaginative and expertly played.  But it also harkens from a long tradition of Southern string bands, particularly the black string bands of the Carolinas and Georgia.  The Carolina Chocolate Drops are rare birds in that they can successfully take an old tradition and make it sound new, with a strong imprint of their own voices and minds.
After the Drops' last album, Genuine Negro Jig, founding member Justin Robinson left the group and was replaced by Hubby Jenkins. Robinson was a fiddle ace and singer, Jenkins is a master of the banjo, guitar and mandolin. So the group's sound has become less fiddle-centric (founding member Rhiannon Giddens is also masterful with the bow). This album also presents a more relaxed sound, with most vocals handled by Giddens and/or founding member Dom Flemons (he's the dude with the suspenders and cool hats in most of the group's videos).
Production of Leaving Eden is also more laid-back. The album was recorded at producer Buddy Miller's Tennessee home studio, some tunes on a back porch as the sounds of a southern night roll on in the background. It's not a low-fi production—as a matter of fact, the band's vocals and instruments sound clearer and more natural than any previous recording—but it's closer to what the group probably sounds like when they pick tunes for pure enjoyment in their own homes or rehearsal space.
On several tunes, Adam Matta augments the band, on beatbox and/or vocals.  Matta is also currently touring with the Drops.  Also, Flemons sings more on this album than past efforts, and that's for the better. He has a strong and interesting voice, and his preferred songs are often from the less-remembered repertoire of times past.
Both Flemons and Giddens are students of their tradition, and have found gems in old songbooks and instrument-instruction books.  On Leaving Eden, the second track, "Kerr's Negro Jig," comes from a circa 1875 songbook.  And, next to last is a compilation of two ditties from Tom Briggs' Banjo Instructor of 1855: "Briggs' Corn Shucking Jig / Camptown Hornpipe." Finally, the band borrows a vocal-harmony shout, "Read 'Em John" from Alan Lomax's recordings of the Georgia Sea Islands Singers.
Following is a video of "Boodle De Bum Bum" from a live performance on WYNC's Soundcheck: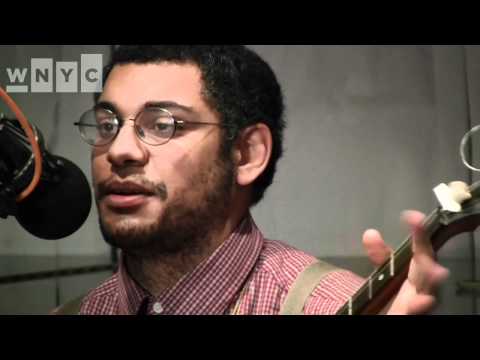 As in the case with their cover of "Hit 'Em Up Style" on the previous album, the Drops try out a tune leaning toward modern hip-hop stylings. In this case, it's Giddens' "Country Girl," which is a country/hip-hop crossover. It will work on the radio, but it's a bit out of style with the rest of the album. The sentiments expressed are nice—after traveling all over the world, there's not better place than home —but the feel is overly commercial.
But that's a minor quibble.  This is a great album that will likely find very frequent rotation in your music queue, long after you've paid the Amazon bill.
Reviewed by Tom Fine