Title: This Heart That Flutters
Artists: Lawrence Brownlee, tenor; Iain Burnside, piano
Label: Opus Arte
Formats: CD, MP3
Release date: May 28, 2013
Lawrence Brownlee's newest collection of songs and arias provides a portrait of this excellent tenor, proving he is an insightful and evolving artist skilled on both the opera and recital stages. His latest release—his first on the Opus Arte label—includes a wonderfully varied collection of infrequently heard songs as well as signature opera arias. Brownlee and his accompanist Iain Burnside recorded in London in three locations: live at Saint John's Smith Square in May 2010 (Liszt and Donizetti) and Wigmore Hall in September 2012 (Rossini), and in studio at All Saints' Church, East Finchley in September 2012 (all other selections).
It is certainly a treat to hear the Liszt Petrarch settings sung by a tenor, as they were originally intended, and sung so well as they are here (even though the applause at the end could have been edited out). Brownlee is in his element and has the opportunity to show off his remarkable ability to seamlessly blend head and chest voice, especially in the cycle's incredibly demanding operatic passages. Liszt demands equally of the accompanist and Burnside formidably meets the challenge. The Duparc songs and Ginastera's Cinco canciones populares argentinas were an unexpected surprise, and it is enviable how Brownlee can negotiate the phrase "Du souffle de la bien aimée ("By the breath of the beloved") in "Extase" and later toss off the rapid-fire text in "Gato" with such confidence.
In elevating "Deep River" and "Sometimes I feel like a motherless child" to art-song status, unfortunately Burleigh's arrangements—and Brownlee's interpretations—sacrifice some of the spirituals' original charm and poignancy. The other selections in English, Ben Moore's settings of texts by James Joyce and W.B. Yeats, fare much better, as both Brownlee and Burnside throw themselves unapologetically into the songs' sentimental melodies.
The inclusion of the two opera arias (as well as the applause at the end of each) was a bit perplexing in the midst of the various collections of songs. Of course, Brownlee's authority of bel canto is unquestionable and the selections allowed him to show off his command of fantastically executed coloratura and solid high notes (all nine high Cs in the Donizetti and a high D in the Rossini). Both arias seemed a tiny bit rushed at times, but perhaps that was due to the excitement of a live performance.
Following is a video of Lawrence Brownlee and Iain Burnside performing "Ah mes amis!" from Donizetti's La fille du régiment on May 25, 2010, at Saint John's Smith Square in London: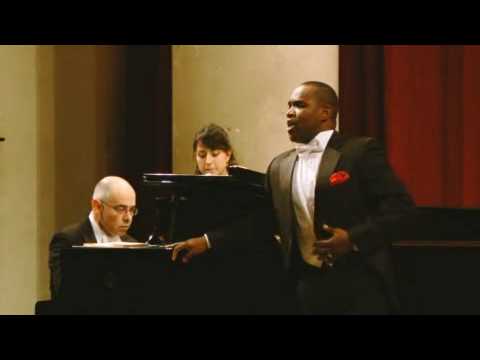 Georg Hall's succinct liner notes were useful, but a description of the insight behind the programming would have been informative.
Reviewed by Frank Villella