Title: Virtuoso Rossini Arias
Artists: Lawrence Brownlee, tenor; Constantine Orbelian, conductor; Kaunas City Symphony Orchestra
Label: Delos
Formats: CD, MP3
Release date: March 25, 2014
Lawrence Brownlee's new collection of Rossini arias—his first orchestral recital of opera selections—showcases the American tenor at the height of his powers. Throughout, he displays a remarkable command of secure high notes and spot-on, perfectly executed coloratura paired with innate musical sensibility and Italianate style. It's no wonder the disc recently received a Grammy® nomination for best classical solo vocal album.
Recorded at the Kaunas Philharmonic in Lithuania in April 2013, eight arias from as many operas are included, with selections from La gazza ladra, Le Comte Ory, L'occasione fa il ladro, Otello, Semiramide, Il Turco in Italia, La donna del lago, and Zelmira.
Recital discs like this run the risk of being too much of a good thing and after a while, sounding somewhat monochromatic. So when asked if all Rossini is the same in the August 2014 issue of Gramophone, Brownlee responded: "There's a similarity in his writing, but for me it's about bringing out the colours and trying different things based on the words. Thankfully I speak Italian so I'm able to understand the weight of the worlds and the double entendres. Yes, Rossini has to be technically sound, the high notes have to be spot on, but it's the words that express the emotions."
And express he does. Barely two minutes into the first selection—from the first act of La gazza ladra—Brownlee sets the stage for the next hour of music to come, caressing the opening lines of "Vieni fra queste braccia" and tossing off a solid high D. And in "D'ogni più sacro impegno," from the rarely performed one-act opera L'occasione fa il ladro, he gradually builds the tension and attacks the coloratura in the final section, concluding with a B-flat held for a full fifteen seconds. In all of the selections, Brownlee dives in headfirst, riding each Rossini crescendo to its inevitable climax.
Constantine Orbelian and the Kaunas City Symphony Orchestra provide adequate yet somewhat uninspired accompaniment. All of the notes are there, but there is very little sense of Italianate style or finesse, and Brownlee is far more engaged than the orchestra throughout.
For comparison, one should also listen to Juan Diego Flórez's Rossini recital on Decca from 2002, accompanied by Riccardo Chailly and Orchestra Sinfonica di Milano Giuseppe Verdi. Even though both tenors perform five of the same selections, the approach is quite different. Flórez leans more towards the theatrical and Brownlee is a bit more technically secure, but that's really splitting hairs. And to this listener, Brownlee's delivery is the more comprehensively satisfying. You simply will not hear Rossini sung better.
In November and December 2014, Lawrence Brownlee performed the role of Count Almaviva in Rossini's Il barbiere di Siviglia at the Metropolitan Opera. From the opera's final scene, here he is singing "Ah, il più lieto" from a dress rehearsal of on November 14. Michele Mariotti conducts: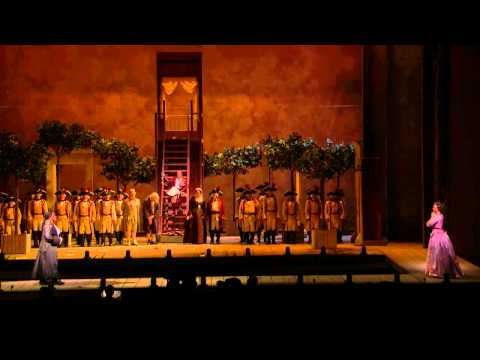 Reviewed by Frank Villella (twitter: @fvillella)
Editor's note: Lawrence Brownlee is a graduate of the Jacobs School of Music at Indiana University (our home base). In June he will be starring with another JSOM alum, soprano Angela Brown (who plays his mother), in the Philadelphia Opera's new production Yardbird, about the jazz great Charlie Parker, composed by Daniel Schnyder.