Title: Ask Your Mama
Artists: Langston Hughes (text), Laura Karpman (music)
Label: Avie
Formats: 2-CD set, MP3
Release date: July 10, 2015
Premiered in 2009 at Carnegie Hall as part of Jessye Norman's Honor! Festival celebrating the legacy of African American musicians, Laura Karpman's masterful Ask Your Mama is finally available on CD.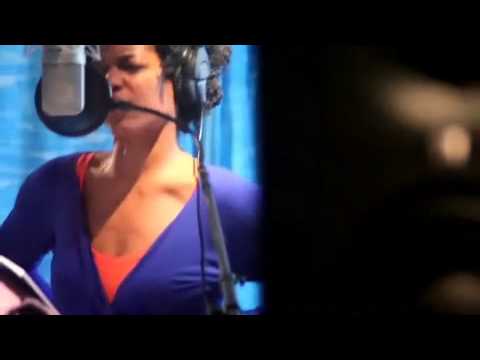 Karpman's composition is an original musical setting of Langston Hughes' epic poem Ask Your Mama: 12 Pieces for Jazz, written in 1960 while he was attending the Newport Jazz Festival and published as a book of poems in 1961. One of the notable features of the book is Hughes' marginalia describing the musical soundtrack running through his head, which he describes in the "Dedication" (track 1):
"This poem was written in segments beginning at Newport, at the Newport Jazz Festival in fact, two summers ago. And I suppose that is why, as I wrote most of it, I could hear jazz music behind it. And so when I gave the first reading of some segments of this poem, they were read to jazz. However, the poem may be read with or without music, of course. But for the benefit of those who might like to hear the music that I heard in my mind as I wrote 'Ask Your Mama,' along the margin of the book there are little musical notations. And the leitmotif of the poem, the Hesitation Blues, the old-traditional blues, and the little break that is used between some of the verses, 'Shave And A Haircut, Fifteen Cents,' those are reproduced musically at the front of the book. And then in the back of the book, as if it were a record, I have a series of liner notes for the unhep, that is, for those who may not quite understand what the poem is about."
Crossing many genres, Hughes' musical references range from cool jazz and post bop to German lieder, patriotic songs, spirituals, blues and African drumming. Karpman, a notable Hollywood composer, weaves all of these strands together into a compelling new work. Also woven into the mix are many samples drawn from earlier recordings—most notably segments of Hughes' reading of the poem (presumably from the 1970 Buddah release)—as well as fragments of Louis Armstrong, Leontyne Price, Pigmeat Markham, Cab Calloway and perhaps others (regrettably the liner notes don't cite specific recordings). This sampling lends a distinctive hip hop influence, juxtaposed with a classical foundation provided by the San Francisco Ballet Orchestra, conducted by George Manahan. Other performers include classical singers Janai Brugger, Angela Brown, and Tesia Kwarteng; jazz vocalists Nnenna Freelon, Monét Owens, Erin McGlover, and Taura Stinson; in addition to Black Thought, The Roots, Medusa, and other instrumentalists.
The tracks follow the original order of the 12 sections of the poem: 1. Dedication; 2. Cultural Exchange; 3. Ride, Red, Ride; 4. Shades of Pigmeat; 5. Ode to Dinah; 6. Blues in Stereo; 7. Horn of Plenty; 8. Gospel Cha-Cha; 9. Is It True?; 10. Ask Your Mama; 11. Bird in Orbit; 12. Jazztet Muted – Show fare, please.
Karpman's musical setting breathes new life into Langston Hughes' text, together referencing the entirety of the African American experience through a diverse range of musical genres and vernacular traditions such as children's rhymes and signifying.
Note: Those interested in a different interpretation of the work might be interested in Dr. Ron McCurdy's The Langston Hughes Project, which claims to follow Hughes' own plans for a multimedia project, and the related CD.
Listen on Spotify here.
Reviewed by Brenda Nelson-Strauss