Title: Wa Di Yo
Artist: Lakou Mizik
Label: Cumbancha
Formats: CD, MP3
Release Date: April 1, 2016
Guitarist and singer Steeve Valcourt, singer Jonas Attis, and American producer Zach Niles (who worked on the documentary film that introduced Sierra Leone's Refugee All Stars) began the group Lakou Mizik in Port-au-Prince in 2010, believing that music could help people recover and find positivity despite the horrible tragedy of the Haitian earthquakes. The group has grown from three to nine members who range in age from their early twenties to late sixties. Their debut album Wa Di Yo is being released April 1 on Cumbancha.
The members of Lakou Mizik each have a different story to tell, and they bring different musical styles along with their distinctive perspectives. Wa Di Yo represents the confluence of many influences within Haitian culture: African, French, Caribbean, and U.S.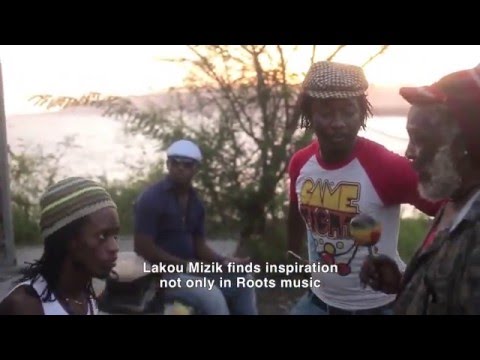 The collectivity that Lakou Mizik enjoys was not always a natural fit.  Originally, vocalist Nadine Remy was afraid of the vodou singer Sanba Zao due to Remy's own evangelical Christian roots. However, Remy and Zao are now close and Remy has embraced and learned from the racine (roots) music movement.
Another uniquely Haitian genre is added through the Rara maestros Peterson "Ti Piti" Joseph and James "Ti Malis"Carrier. Rara is a traditional street music that supplies much of the rhythm that undergirds the music of Lakou Mizik. Their cornets (a simple brass horn they hope can one day be as respected as much as trombone or trumpet) can be heard on many of the songs, such as "Pran Ka Mwen" and "Wa Di Yo."
Accordions also are foundational elements of the album's sound on tracks such as "Poze," "Anba Siklòn," and "Is Ta Fi Bo." There are also tracks without the band's cadre of musical instruments, occasionally the band delivers such raw tracks such as "Bade Zile" and "Parenn Legba," both traditional songs arranged by the group as beautiful full-chorus a capella songs with only slight percussion accompanying them.
In Creole, the word lakou has multiple meanings which range from a communal gathering place to home or "where you are from." Rising from terrible national tragedy, Lakou Mizik takes pride in the many musical styles and cultural backgrounds of their members and, more broadly, of their country. One member asserts in a promotional video for the album, "the true richness of our culture has yet to be discovered." Wa Di Yo may begin the discovery process for listeners around the world.
Reviewed by Anna Polovick