Title: HaitiaNola
Artist: Lakou Mizik
Formats: CD, LP, Digital
Label: Cumbancha
Release Date: October 25, 2019
Inspired by the historical, cultural, and spiritual connections that tie the people and music of Haiti and New Orleans together, HaitiaNola is the sophomore release from Haitian roots revival collective Lakou Mizik. Founded in 2010 following the devastating Haitian earthquake, Lakou Mizik first came together with the goal of promoting Haitian culture and music when the international media was filled with negative stories and imagery from the country. Their debut album, Wa Di Yo, was released in 2016. The following year, a performance at the New Orleans Jazz & Heritage Festival inspired the group's recent New Orleans infused collaboration. The band members immediately felt a connection to the city which reminded them of home—no surprise, given the number of Haitians that fled the island during the Haitian Revolution and assimilated into New Orleans' Creole population.
In addition to Lakou Mizik, the album features a great lineup of New Orleans musicians like Trombone Shorty, Cyril Neville, and the Preservation Hall Jazz Band. HaitiaNola incorporates the best that these artists have to offer of their respective cultures—Haitian Vodou prayers mixed with Jon Cleary's New Orleans-style piano riffs ("Loumandja"), Cajun influence from the Lost Bayou Ramblers ("Grann"), and brass band accompaniment by The Soul Rebels set to Haitian vocals ("Manman Lavi"). The fusion of Haitian and New Orleans styles results in a gritty energy, mysticism, and carefree optimism that persists in both places.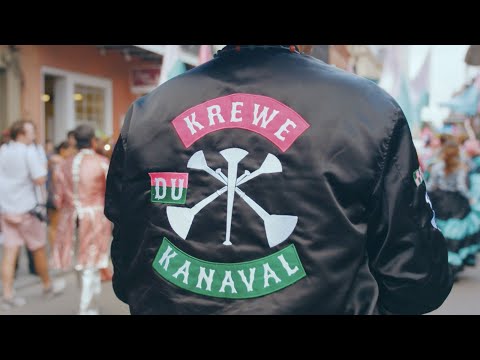 In Haitian Kreyól, the word lakou can mean the backyard, a gathering place to share in others' company. It can also mean "home" or "where you are from." With HaitiaNola, Lakou Mizik expands their lakou to include the musicians of New Orleans, allowing these artists to explore a cultural bond that can be traced back to the 18th century.
Reviewed by Chloe McCormick