Title:  Retox
Artist:  Lakecia Benjamin
Label: Motéma Music
Formats:  CD, MP3
Release date:  May 8, 2012
Lakecia Benjamin knows how to bring on the funk, and it's heaped on top a pile of jazz and soul in her debut album Retox. The saxophonist and bandleader has performed with the likes of Stevie Wonder, Alicia Keys, The Roots and Macy Gray as well as jazz artists such as Clark Terry, Reggie Workman and the David Murray Big Band.  On Retox, which was funded in part by a grant from Women in Jazz Inc., Benjamin has chosen to showcase her formidable talents as a producer, composer, arranger, and songwriter. Penning 11 of the 12 tracks on the album, she then selected a variety of new talent to give voice to her songs. Following is the official trailer: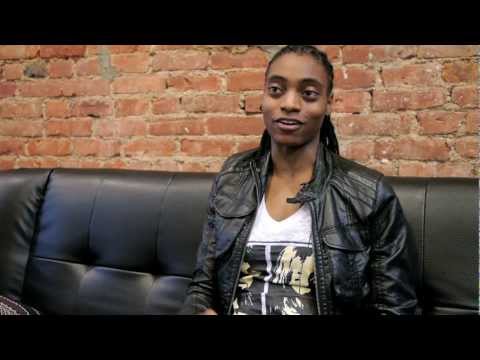 Retox kicks off with "SoulSquad," the name she gave to her band because "I always wanted to play like I was in an army of funky musicians."  And this army takes no prisoners! Benjamin gets us fired up with the P-funk inspired opening jam, then jumps right into "Keep Talkin'" which maintains the '80s-style groove but shakes things up with the vocals of Tracy Nicole and Amp Fiddler. Benjamin's super tight horn arrangements come to the fore in "Maceo," her tribute to James Brown's legendary sax player Maceo Parker.  Slowing things down, the soulful "Share My Life" featuring Jacoria Marzett on vocals with rapper Whosane joining at the bridge, is an affirmation of love and respect.  "My Love" takes it down yet another notch, with the smoky vocals of Krystle Warren wafting over the Hammond B3, bending notes and stretching out the nebulous beat in an improvisational ballad that fades into infinity.  After a brief moment of silence, "Human Being" gradually cranks up the sound and tempo, bringing in the horns for a raucous jazz reunion before passing off to Mavis Swan Poole who lays down the vocals.
"Jump and Shout," another standout track that's a throwback to the days of Labelle and Chaka Khan, features the "aggressive soul" of Chinah Blac who leaves us wanting much, much more. "Smile," though not an especially original arrangement, features up and coming singer Maya Azucena whose smooth R&B stylings do the song justice.  The funk returns on "Get Down," a dance party groove that sounds like Chuck Brown meets the Meters, with plenty of outstanding solos from the horn section. "Don't You Worry 'Bout a Thing" is Benjamin's arrangement of the Stevie Wonder song, and after staying out of the spotlight for much of the album, she picks up her sax with a vengeance and makes up for lost time, proving that she hasn't lost any chops while honing her songwriting skills.
The album concludes with two very interesting and more experimental compositions. The ethereal vocals of Melanie Charles float over the heartbeat of a bongo on "Dreams," setting a hypnotic, calming mood.  But there is no chance of dozing off, for "Slow Juice" jump starts the final track with a piledriver bump and grind from the rhythm section that builds into layers of distorted improv before ending abruptly, leaving us hanging on the edge of a cliff.
Retox was co-produced by Ben Kane (D'Angelo, Krystle Warren), who gives the tracks a rich, full-bodied analog sound.  Any fan of old-school funk and soul will enjoy this album, while jazz aficionados will appreciate the expertly crafted arrangements, the tightness of the "Hotspot Horns" (Jonathan Powell, Nick Roseboro, Mark Williams, Andre Murchison) and the kick ass rhythm  section (Solomon Dorsey on bass, Jess Fisher and Chris Rob on keys, Shelton Gardner and Louis Gato on guitar, and Brandee Younger on harp).
Reviewed by Brenda Nelson-Strauss