Title: East West Time Line
Artist: Kevin Eubanks
Label: Mack Avenue
Formats: CD, Digital
Release date: April 7, 2017
East West Time Line is the latest release from the extraordinary jazz guitarist Kevin Eubanks.  While Eubanks is perhaps most famous as Jay Leno's bandleader, he has maintained a celebrated career performing with a host of premier jazz musicians, both touring and making a spate of excellent studio recordings. On East West Time Line, the Philadelphia native enlists a band from each coast, featuring East Coasters Jeff "Tain" Watts (drums), Dave Holland (bass), Orrin Evans (keyboard), and Nicholas Payton (trumpet).  The record's West Coast counterparts consist of Marvin "Smitty" Smith (drums), Rene Camacho (bass), Mino Cinelu (percussion), and Bill Pierce (saxophone).
While employing two different groups on this release, ultimately Eubanks has crafted an album that may be most notable for its sonic unity.  Without knowing the instrumentation for each tune, it is difficult to distinguish which of the tracks might feature the "East Coast" group versus those the "West Coast" band plays on.  The typical stylistic distinctions that one might think of as representing the jazz of each coast (East Coast musicians playing hard-driving straight ahead bop and West Coast musicians taking a cooler, more academic approach) collapse, leaving what one would expect from a musician of Eubanks's caliber and notoriety—moments of musical virtuosity tempered with tasteful, relaxed balladry.
The band moves fluidly from style to style on this 10-track album, digging deep into a funky Latin groove on their reading of Duke Ellington's "Take the Coltrane," playing amorphous time and harmony on "Water Colors," and bringing out a version of Marvin Gaye's "What's Goin' On" that falls somewhere between early Miles and late night Muzak. As a guitar player, Eubanks's strength lies in his unique approach to fingerstyle guitar playing, showcased on several tracks but perhaps best exemplified by his dizzying chord-octave-chord solo on "Time Line," a number sure to send jazz guitarists straight to the woodshed: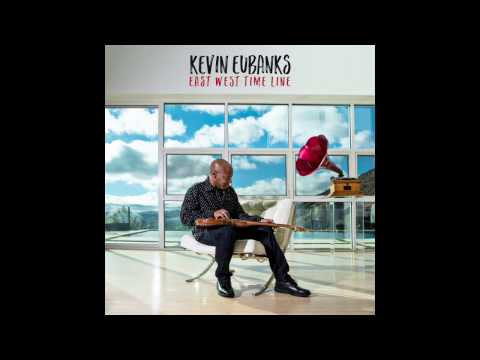 Another highlight of the record is the West Coast band's reading of "My One and Only Love"— Eubanks's sophisticated chord-melody intro, masterfully-phrased solo and Pierce's delicate treatment of the song's melody may place this track into the running for a definitive reading of the tune.
Overall, Eubanks and his two ensembles have compiled a tight set of well-arranged and expertly played tunes.  It would be great to have a full set with each ensemble in the future.  Jazz fans should certainly hope Eubanks will expand on this project in years to come.
Reviewed by Matthew Alley