Title: A Beautiful World
Artist: Kermit Ruffins & Irvin Mayfield
Label: Basin Street
Formats: CD, LP, MP3
Release date: September 22, 2017
Celebrating Basin Street Records' 20th anniversary, musician Kermit Ruffins and producer Irvin Mayfield join together on a collaborative album, A Beautiful World. This album includes different musical configurations and features other Basin Street Records' artists: Rebirth Brass Band, Dr. Michael White, Jason Marsalis, and Bill Summers. Other artists making guest appearances include Haile Reinhart, Cyril Neville, John Boutté, Glen David Andrews, Shannon Powell, and many other New Orleans musicians. Basin Street claims "A Beautiful World is the ultimate party in record form" and I must agree—it's a non-stop celebration as well as a demonstration of the musical genius and creativity of Kermit Ruffins and Irvin Mayfield.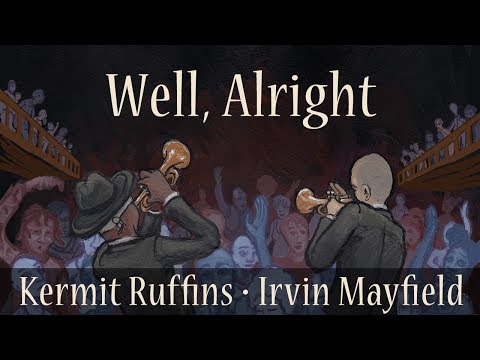 The party begins with "Well, Alright," a big band piece with tasteful horn solos, handclaps, and a swingin' rhythm section. Along with the sounds of the big band, we hear vocal support from the artists encouraging soloists during their solos, which is participatory characteristic of African American music. "Drop Me Off In New Orleans" reflects the cheerful and jovial sounds that can be heard while walking through the streets of New Orleans, capturing a true representation of the city's tradition jazz music legacy. In addition, there are soulful compositions and arrangements such as "Move On Ahead," "Good Life," "Be My Lady," "Allen Toussaint," "Just A Closer Walk With Thee," and "When The Saints Go Marching In." These songs express the spirit of the album, which is to honor the past while celebrating Basin Street Records' 20th anniversary and the beginning of New Orleans 300th anniversary.
A notable feature of A Beautiful World is the short spoken word interludes interspersed with musical compositions throughout the album. Narratives of Kermit Ruffins and Irvin Mayfield are heard through the words of actor Wendell Pierce, DJ Soul Sister, Irvin Mayfield III, and The Urban Cellist. These interludes not only provide a contrasting element to the project, they also offer the listener a glimpse into the experiences of Ruffins and Mayfield.
When asked about the recording process Ruffins responded, "Good food and good music are my passions. I wanted to make a record people could eat." Metaphorically speaking, A Beautiful World is certainly food for the soul. From its foot-tapping rhythms, groovy basslines, rich harmonies, and melodious hooks to its historical musical representations, this album is a wonderful treat for the listener and a heartfelt tribute to the city of New Orleans and Basin Street Records.
Reviewed by Jamaal Baptiste