Title: Bluesamericana
Artist: Keb' Mo'
Label: Kind of Blue Music
Formats: CD, LP, MP3
Release date: April 22, 2014
Three-time Grammy winner and blues artist Keb' Mo' is proof that some things only get better with age. Known for blending the Delta blues of his inspirations Robert Johnson and "Big" Bill Broonzy with other genres, including pop, soul, folk, and rock, Keb' Mo' has been a modern blues legend for 20 years now, since his self-titled debut was released in 1994. His latest and twelfth full length album, Bluesamericana, is a testament to his talent, with vibrant and warm music that explores different styles while always keeping blues at the forefront.
According to Keb, the album revolves around the ideas of "love and understanding." Themes of romance and love are certainly present in many of the songs, such as the upbeat, country music-influenced track "Do It Right," and the melodic, soulful "I'm Gonna Be Your Man." Both talk about finding the perfect woman after searching for many years.
While romance may be an overarching theme of Bluesamericana, "The Old Me Better" is the standout track of the album, featuring the band California Feetwarmers, who bring along a barrage of instruments including the banjo, trombone, trumpet, washboard, and tuba. Co-written with John Lewis Parker, this "New Orleans street parade tune" is a new style and feel for Keb. Full of fun and energy, it will take you from toe-tapping to dancing, as seen in the live version: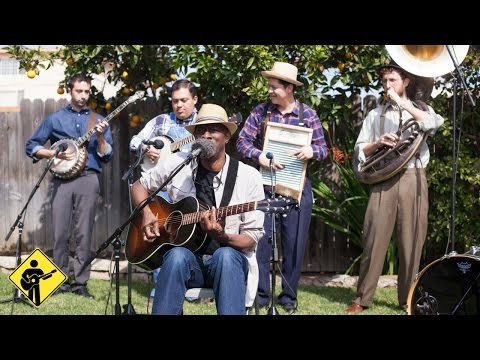 Another exploration of different genres, "Somebody Hurt You" is "where the blues meets the church," according to Keb, with call and response vocals along with some softer horns and organ in the background. The song also features Rip Patton, a Civil Rights era Freedom Rider, on bass vocals. Along with its gospel qualities, the song has a uniquely blues-y feel to it as well, with electric guitar that weaves in and out of the melody and lyrics that talk about pain and protection.
"More for Your Money" is another highlight of Bluesamericana. Sounding like a story your grandpa would tell you, Keb starts the song off by singing, "When I was kid, candy was a nickel." Keb's vocals stand out in this track, with his smooth and conversational tones showcasing his narrative power. It's the kind of song that makes you smile despite its deep, socially conscious lyrics about the most recent economic recession.
Keb' Mo' has showed the world once again his remarkable gift for music with Bluesamericana, an album that celebrates love, relationships, and most importantly, the blues.
Reviewed by Anna Polovick