Title: "Gone with the Trends"
Artist: illPHONiCS
Label: The Record Machine
Formats: CD, MP3
Release date: April 1, 2016
St. Louis-based hip hop act illPHONiCS draws from a variety of musical influences, including rock, funk, and soul in its genre-bending blend of rap music with a live backing band.  In the vein of fellow musical polymaths The Roots, it might be possible to describe the group's effective musical fusion in the words of Fallout Morris, the group's MC: "musicality bliss from beginning to finish." In my opinion, live bands may provide some of the most fertile territory for the ever-diversifying future of rap music, as many top name acts such as Kendrick Lamar are blending a live approach with electronic sounds and sampling. illPHONiCS are certainly on the cutting edge of this movement.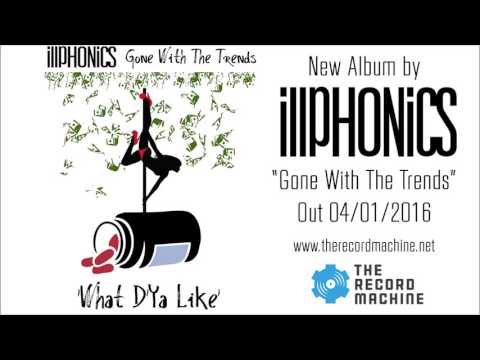 illPHONiCS's core group looks (and often sounds) more like a rock band than a rap group.  Morris is joined by Keith Moore a.k.a. William Gray on keyboards, Kevin Koehler on guitar, Simon "Spank" Chervitz on bass, and Chaz "CB" Brew on drums, organ, and vocals.  illPHONiCS is a group full of musical shapeshifters who play the funky "Liquid Spaceships" as convincingly as they play the '90s alt-rock tinged (think Radiohead's heavier moments) "Sweet Missouri ('miz(a)rē)."
The band's music is propelled by Morris's lyrics. The group's MC eschews commercial rap cliches in favor of nuanced storytelling that smacks of rap's poetic underground, as in "96 to 99," a love letter to the classic rap groups that ruled the airwaves during that era.  ilPHONiCS also jump on current events (a trend that has been popular with artists in 2015 and 2016) on "The Brown Frequency," a cut about Michael Brown's death at the hands of police and the protests in Ferguson, Missouri that followed.  Unlike many other artists who treat this subject from a distance, alluding to social unrest indirectly or expressing some kind of vague solidarity, illPHONiCS speak to the subject with a more authoritative voice.  Not only is the group from the St. Louis area, but the lyrics to "The Brown Frequency" demonstrate specificity both of cause and of remedy that are unfortunately lacking from many other so-called "protest" records in 2016. The group takes a more introspective turn on "Gone with the Trends," an anthem about personal authenticity.  However, illPHONiCS aren't above including more standard fare such as "Love's Not Far," a number about unrequited love, and the smooth-funk party anthem, "Everything (Jammin For You)."
The diversity on "Gone with the Trends" is matched only by the band's tight musicianship and Fallout Morris's silky-smooth rhymes.  Alternative hip hop fans will definitely want to give this release a few spins.
Reviewed by Matthew Alley