Title: Can You Hear God Crying?
Artist: Hannibal Lokumbe, composer
Label: Naxos
Formats: DVD (71:31 min.; NTSC 16:9, Region 0); Streaming
Release date: November 11, 2014
In his spiritatorio, Can You Hear God Crying?, composer/trumpeter Hannibal Lokumbe combines the sounds of jazz, gospel, chamber music and West African prayers to create a lyrical retelling of his great-grandfather Silas Burgess's voyage from West Africa to enslavement in South Carolina, and his subsequent physical emancipation and spiritual awakening. This story as it appears in this live recording is told in ten musical veils—instead of movements—which Lokumbe believes better communicates movement from one level of consciousness to another.  Conducted by Dirk Brossé, the performance features several critically acclaimed musicians including soprano Janice Chandler-Eteme, tenor Rodrick Dixon, Homayun Sakhi on Afghan rubâb, and vocalist Paula Holloway, as well as vibrant contributions from the Celebration choir (composed of members of several local church and community choirs) and the Music Liberation Orchestra alongside The Chamber Orchestra of Philadelphia.
Following is a video about the spiritatorio (with different performers from those featured on the DVD):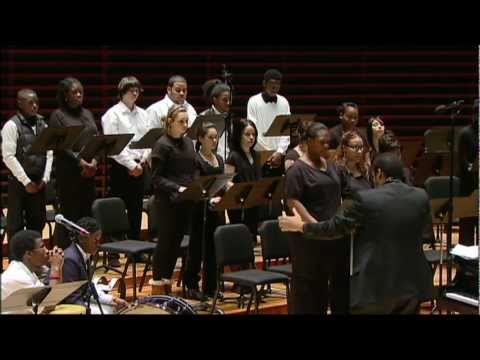 The tenor of this project is indicated in the first veil, "Who," which opens with one of several prayers woven throughout this work. Indeed, much of this story is a result of consistent communication between the major characters—humanity, Silas, and Kunanamui (the designation for God in the Kpelle language of West Africa). Interestingly, the voice of Kunanamui is rendered by Chandler-Eteme's rich soprano rather than the voice of a male.  Her dynamic performance is one of the most compelling elements of this concert as she colorfully breathes life into her character with finesse, passion, and shimmering reverence. Dixon presents the steady voice of Silas while the choir takes on multiple roles including humanity, ancestor spirits, and on occasion even the voice of God.
Crying is both conceptual and mystical as the story it conveys is not a linear unfolding of events. After Kunanamui's call to humanity in "Who", listeners are introduced to two prayers that Silas offered to God on his final day of life in which he referenced his early childhood in Africa. Because of his faithfulness, Silas's spirit is allowed to travel back in time to look on the faces of his deceased parents. He is also allowed to witness his people as they move through the "door of no return" on the Bunce Island slave castle in Sierra Leone. Other veils like "The Jonah People" and "Hymn for the Living" address the physical, emotional, and spiritual hardships of the transatlantic slave trade experienced people of African descent. The spiritatorio ends with Kunanamui returning Silas's spirit to his body just as his daughters surround him with song and prepare for his death.
Within this work, the textual and sonic dimensions are equally important to crafting the story. The lyrics for each veil differ as they illuminate new aspects of the Silas's and more directly Lokumbe's spiritual awareness. Nevertheless, he prioritizes clear communication as this production includes a booklet that features both the lyrics as well as contextual information for each veil. The music is rather eclectic and layered – perhaps reflecting Lokumbe's many musical experiences.  Call and response between soloists, chorus, and instruments is featured in almost every veil as the music meanders between moments of abstraction and tangibility. For instance, Lokumbe characterizes the veil "I Have Come for You" as representing the sound of a descending leaf as it features unintuitive and even disjunct melodic, harmonic, and rhythmic movements. Conversely, "I Will Go to the Lord" harkens to the syncopated sounds of his childhood drawing fervently on blues and gospel with a spirted Holloway improvising alongside Lokumbe's mesmerizing trumpet playing.
Can You Hear God Crying? is a complex musical journey that is meant to be absorbed immediately and savored over time. It is a celebration of the resilience and experiences of not only Silas Burgess but of many individuals who were forced to migrate to the Americas (much like his 1996 work on similar themes, African Portraits). And yet, it is also an expression of growth and healing. Through this music, Lokumbe invites us to share in his joys, pains, and discoveries as he reconciles the past with the present while striving toward a spiritually enlightened future.
Reviewed by Raynetta Wiggins