Title:  Juba Dance
Artist: Guy Davis
Label: M.C. Records
Formats: CD, MP3
Release date:  September 10, 2013
The multi-talented Guy Davis has segued between music and acting throughout his life, not surprising since he's the son of Ruby Dee and the late Ossie Davis.  His folksy style also reflects his early exposure to roots music at a summer camp run by the Seeger family, where he first learned to play the banjo.  On his latest release, Juba Dance, Davis continues to weave together these influences, presenting some mighty fine storytelling, banjo picking, old-timey hoedowns and down home country blues.  Here's the official album trailer, featuring the track "Love Looks Good On You":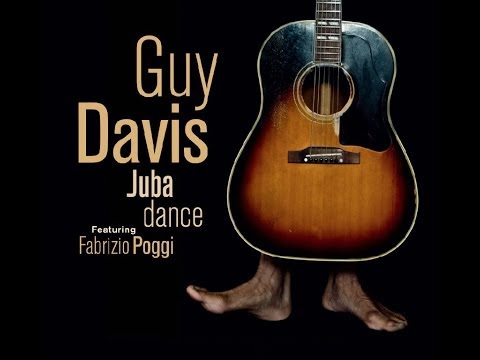 Featured guest Fabrizio Poggi, an Italian harmonica virtuoso, contributes to the majority of the tracks and is especially effective on Muddy Waters' "My Eyes Keep Me In Trouble" and Josh White's "Prodigal Son," and delightfully adds the cream to "Black Coffee," a homage to Delta blues master John Lee Hooker.  On "Some Cold Rainy Day," a song popularized by Georgia Tom (aka Thomas A. Dorsey) and Bertha "Chippie" Hill, Davis is joined by "blues & gospel empress" Lea Gilmore and they clearly relish their role in re-creating this classic.
One of the highlights of the album is a rendition of Blind Lemon Jefferson's "See That My Grave Is Kept Clean," with the Blind Boys of Alabama singing back-up over Davis's lead vocals and 5-string banjo.  Another is "Dance Juba Dance," an original song composed in the style of a folk ballad that references the 19th century African American dance, complete with claw-hammer banjo and spoons in a "butt shaking rhythm." Children will be enthralled by "Did You See My Baby" as Davis turns into a one-man band, playing 6-string guitar while employing harmonica for call and response in this foot-stomping romp through an "Old MacDonald's Farm" style tale.
The album closes with Blind Willie McTell's "Statesboro Blues" to which Davis admits adding "some Motown chords" to support the story, but it's done with subtlety in a manner that bridges traditional blues with a little dash of soul.  That approach sums up the album—reinterpreting and reinvigorating the classics while adding new songs to the repertoire that will satisfy traditionalists and with any luck, engage a new generation.
Reviewed by Brenda Nelson-Strauss