Title: Sonny & Brownie's Last Train: A Look Back at Brownie McGhee and Sonny Terry
Artist: Guy Davis & Fabrizio Poggi
Label: M.C. Records
Formats: CD, MP3, Vinyl
Release date: March 24, 2017
Blowing past the mouthpiece and producing train whistle-like chords, Fabrizio Poggi masterfully creates a sonic image on his harmonica of a train blowing steam as Guy Davis boldly strums on his acoustic guitar during the introduction of "Sonny and Brownie's Last Train." This original composition by Davis pays homage to the great mid-twentieth century Piedmont blues duo, Sonny Terry and Brownie McGhee. Terry and McGhee drew inspiration from early folk-blues figures such as Lightnin' Hopkins, Josh White, and John Lee Hooker and were also associated with the left-wing folk movement.
This 12-track album of acoustic blues studio sessions was recorded live in Milan, Italy and features songs written by McGee and Terry including "Walk On," "Evil Hearted Me," and "Hooray, Hooray These Women are Killing Me." Davis and Poggi also cover a number of blues greats from Jimmy Oden's "Going Down Slow" to Elizabeth Cotten's "Freight Train," as well as familiar traditional songs like "Take This Hammer," "Shortnin' Bread," and "Midnight Special."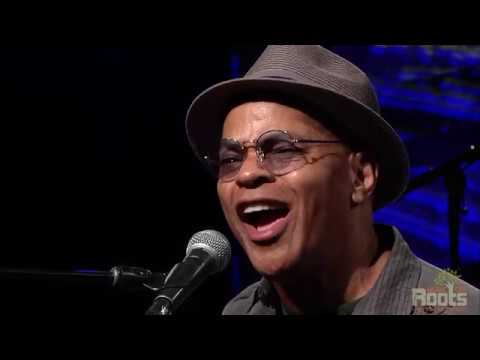 Special attention should be paid to the technical musical nuances during these live recordings. Of particular interest is Poggi's emulation of Terry's whooping and hollering between harmonica riffs for an added soulful effect. As well, Davis embraces the storytelling tradition in his performances inspired by the work of Blind Willie McTell and Big Bill Broonzy.
After a music career spanning over two decades, this commemorative album marks Guy Davis' 14th recording. Reflecting on this latest work, Davis explains, "Brownie McGhee and Sonny Terry were two musicians whose work will not be surpassed, let alone improved on. This musical opus was produced by Fabrizio Poggi. It features our combined musical talents, and is not meant to compete with the originals. It's meant to be a love letter to Brownie and Sonny signed by the both of us. They were two of my favorites."
Sonny & Brownie's Last Train is certainly worth giving a listen, not only to hear expertly executed blues techniques on the harmonica and acoustic guitar, but to witness an excellent and historically significant collection of standard blues and traditional music.
Reviewed by Jennie Williams