Title: Gil Scott-Heron in Black Wax
Artist: Gil Scott-Heron
Label: MVD Visual
Format: Blu-Ray, DVD
Release Date: November 13, 2015
The recent Blu-Ray release of director Robert Mugge's 1982 concert documentary film Gil Scott-Heron in Black Wax features the original film plus the accompanying short subject "Is That Jazz?" Both are remastered with high-definition video and audio.
For those not familiar with this film, Mugge utilized the conventions of the concert documentary to great effect for Gil Scott-Heron's unique blend of music, poetry, and political commentary. The musician-poet leads the camera on a guided tour of Washington, DC, highlighting both the "official" national monuments as well as the "unofficial" ghetto neighborhoods. All the while, Scott-Heron comments on the state of politics during the Reagan administration, performs his street poetry in DC's black neighborhoods (complete with rapping alongside his own recordings playing on a ghetto blaster, a fascinating touch that implies the artist's profound influence on hip hop music and culture), and philosophizes about art. This footage is interspersed with concert film of Scott-Heron's band performing his original music, which ranges stylistically from reggae to funk to jazz and features Scott-Heron both singing and "rapping" his poetry. Unlike many concert documentaries that interrupt the musical performance in order to advance the film's narrative, Black Wax provides a window into Scott-Heron's multifaceted art and politics by jumping from concert footage to sections narrated by Scott-Heron himself, reading as a guided tour of the artist's work and politics.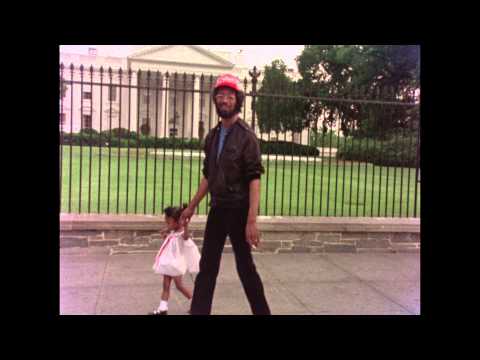 Gil Scott-Heron in Black Wax is essential viewing for anyone interested in the artist's unique blend of art and politics and is a masterful music documentary to boot. This remastered Blu-Ray version allows viewers to see and hear the film in high definition, enhancing both the filmmaker's and the artist's excellent work.
Reviewed by Matthew Alley