Title: Live
Artist: Gary Clark Jr.
Label: Warner Bros.
Release date: September 22, 2014
Gary Clark Jr. is perhaps best known for his 2010 song "Bright Lights," from both his 2010 EP of the same title and his first full-length record, Black and Blu; the single has graced television shows, whiskey commercials, and even video games. As his inclusion in Eric Clapton's 2010 Crossroads Guitar Festival would indicate, however, Clark is much more than a one-hit wonder.  Rather, this young gun is a smoking guitarist and singer who also has a flair for writing memorable original songs.  As this live 2-disc set indicates, Clark's forte is arguably as an improvisational guitarist, something that justifies releasing a live album this early in his recording career.  Gary Clark Jr. Live includes a number of memorable riffs and extended jams, combined with a smattering of blues standards that suggest Clark wishes to push musical boundaries while being firmly aware of his genre's history.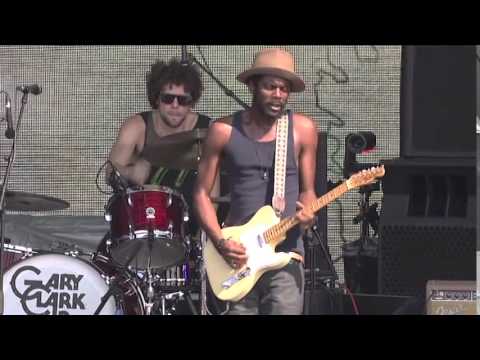 With most of the numbers on these discs falling somewhere between blues and rock, Clark carves out memorable space for his guitar playing in each song, often engaging on the kind of guitar odyssey that hearkens more of Allman Brothers-style jam band stretching out than of the kind of call-response relationship between voice and guitar that might be heard on a B.B. King record.  Of course, Clark's signature song "Bright Lights," an ode to imagined 20-something grandiosity, is included on this album in an extended jam format, giving him an opportunity to deliver a bit more raw energy to his audience than the by now ubiquitous studio recording of the song does, complete with several guitar solos full of  fuzzed-out wah-wah feedback.  Clark incorporates this loud arena rock soloing style on a number of the songs on this disc, but the most interesting moments are perhaps those in which he departs from this rock-oriented formula, channeling Delta solo guitar playing on "Next Door Neighbor Blues" and imitating his fellow Texas blues guitar hero Stevie Ray Vaughan on "Travis County," or B.B. King on King's own "Three O' Clock Blues." Not only is Clark an excellent original soloist, but he also wields prodigious command as a guitarist in his ability to imitate acknowledged masters of his genre.
Clark's playing is perhaps most tasteful on "Please Come Home," a '50s doo-wop style love song that allows him to utilize his smooth falsetto voice and to play what is arguably the most tasteful extended guitar solo on this album, in which a listener may pay attention to his lyrical phrasing without the torrent of distortion, effects pedals, and feedback that pervade much of this record.  Clark's backing trio, consisting of bassist Johnny Bradley, rhythm guitarist King Zapata, and drummer Johnny Radelat, provides the sonic backdrop for the vocal and guitar explorations that Clark conducts over a smattering of his original material and the hand-selected covers he incorporates into this set.  This rhythm section's tight feel and responsive playing are key elements that allow Clark's extended jams to rarely venture into the territory of the monotonous, even if he may reach the climactic moments of his solos a bit prematurely at times.
Like Clark's studio albums, Gary Clark Jr. Live provides a window into the artistic vision of an artist who has command of the lyrical and musical themes that inform his legacy as a modern blues-oriented guitarist.  This set demands listeners' attention, perhaps not for Clark's memorable original songs as much as his ability to interpret both his and others' material in continually fresh and exciting ways.
Reviewed by Matthew Alley