Title: FLūTR°NIX
Artist: Flutronix
Label: Flutronix Music
Format: CD, MP3
Release date: October 2010
–
The New York flute duo, Flutronix, has been infiltrating NYC-area clubs and concert halls for the past few years, making a name for themselves with 21st-century indie chamber music "rooted in influences as diverse as Steve Reich, Radiohead, Terry Riley and Aphex Twin." The petite powerhouse is comprised of Nathalie Joachim and Allison Loggins-Hull, who have extensive experience in classical music performance as well as multimedia collaborations.
Loggins-Hull earned her BM in flute performance at the SUNY Purchase Conservatory of Music, and a MA in composition from NYU, studying under Joan la Barbara. Her primary focus has been on electro-acoustic musical styles, production and film scoring, which she has utilized in a number of cross-disciplinary projects.  Joachim received her degree in flute performance from Juilliard under the mentorship of Carol Wincenc, studied experimental music at NYU, and completed a MA in media and sound studies at The New School.  In addition to her many awards as a classical flutist, Joachim also works with the performing arts collective Ditch Productions.
Flutronix, their debut album, is a masterful collage of electronic and acoustic music, woven into multi-faceted textures that combine the instruments and digital effects in a very accessible, contemporary manner. The opening track, "Crazy," is a composition by Joachim that features  contrapuntal flutes over an electronic bass line and drum machine, with intermittent hip hop sensibilities: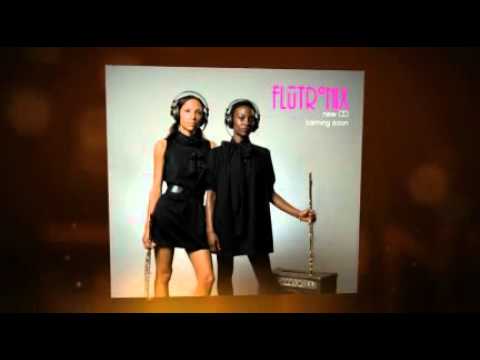 Joachim also composed two of my favorite compositions on the album—"Wander" and "Aware" —for flute, voice and electronics. "Wander" opens with Joachim's pop-styled vocals. The melody is taken over by the flute, then subverted by a punchy electronic bass, concluding with a peaceful resolution between the three.  On "Aware," a disembodied voice loops over tribal drumming, while the flute enters with the melodic line. Of the compositions by Loggins-Hull, the highlights are "Pray," which features an improvisational virtuosic flute line over an atmospheric minimalist undercurrent, and "Stacked," arranged for two flutes and loop pedal, creating the effect of a contrapuntal flute choir.
Flutronix was self-produced by Joachim and Loggins-Hull, with assistance from noted mastering engineer and cellist Steven Berson.  The album is very highly recommended, and belongs in every university music library. The duo also offers printed music for several works, and is currently sponsoring a competition for young composers (under 30) working with electronic components—the deadline for submissions is March 1, 2011.
Reviewed by Brenda Nelson-Strauss