Title: Fatou
Artist: Fatoumata Diawara
Label: Nonesuch
Formats: CD, MP3
Release date: August 28, 2012 (U.S.)
On her debut album, Malian singer-songwriter Fatoumata Diawara commands the songs with a vocal force that is at once boldly expressive and tastefully understated. This comes as no surprise given the actress-turned-singer songwriter's hard-won access to the public stage. Faced with her family's disapproval and the severe social restrictions placed on Malian women, Diawara became a seasoned musician while overcoming her many career obstacles. On Fatou, her voice seethes, instructs, and beckons, and brings to bear the life experiences that have shaped it over the years.
The album showcases her song craft, in which she combines her traditional Wassoulou music with jazz and funk. The album's 13 tracks lace colorful riffs played on kora and ngoni, traditional West African stringed instruments, over a layer-cake of percussion that includes congas and a calabash (a gourd drum).
The band stays tastefully restrained, though, to foreground Diawara's vocals and guitar playing. Though she sings in her native Bambara, Diawara's voice communicates the emotional caliber of her songs. You don't need to read the English translation of the lyrics from "Kanou" (which are supplied in the liner notes), to know that the song is about a young woman's grief over a love turned cold. Diawara sings with a melancholic chill over a plaintive guitar motif, giving the age-old story immediacy and perspective. On "Kele"—a song about the tragic toll of war—the Malian songstress transforms a call to arms into a bouncy rhythm and gunshots into silver darts of melody. "Bissa" features Diawara's signature mid-tempo groove garnished with blithely plucked guitar strings and hand drums: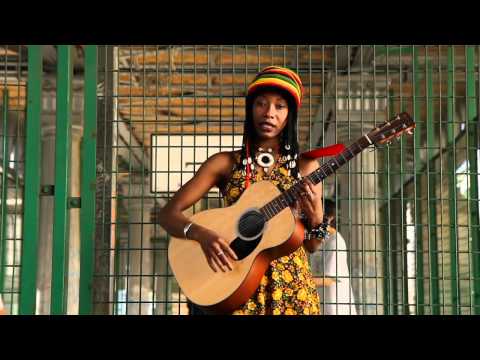 Though Fatoumata Diawara might be new to most listeners, her music bespeaks of a woman and musician with a world of experience. In addition to her debut album, Diawara has recorded on Bobby Womack's The Bravest Man in the Universe and Herbie Hancock's Grammy-winning Imagine Project. She'll also be headlining this year's Lotus World Music and Arts Festival in Bloomington, Indiana, on September 21-22, 2012.
Reviewed by Betsy Shepherd