Title: Everybody Wants To Be A Cat: Disney Jazz, Vol. 1
Artist: Various Artists
Label: Walt Disney Records
Formats: CD, MP3
Release date: February 15, 2011
The focus of this collection is not so much what the Magic Kingdom managed to do with jazz. It's about what the jazz world has been able to do with the music of Disney.—Liner notes.
The opening track, "Ev'rybody Wants To Be a Cat" by Roy Hargrove, was the inspiration for the album's title and demonstrates the wide appeal of this CD. Originally targeted for children, the 'Disney sound' has been re-vamped, turning classic songs into jazz arranged for a new  audience so adults, too, can appreciate them.  As Ashley Kahn writes in the liner notes, this album continues a long tradition of "jazzmen of all stripes—traditional and progressive—[embracing] Disney music."
The Album has many highlights.  "Chim Chim Cher-ee," featuring bassist Esperanza Spalding, adds a French cabaret aura to the arrangement, complete with Spalding vocalizing the melody over an accordion accompaniment. "Some Day My Prince Will Come," featuring Dave Brubeck, starts out with a slow, solo piano intro which then picks up the tempo, adding the remainder of the combo, complete with swinging cymbals in the percussion. The Bad Plus trio takes on "Gaston," from Beauty and the Beast, in an incredible arrangement that creates a huge range of sound with the drums accenting the piece to a tee. "The Bare Necessities," with Alfredo Rodriguez on piano and percussion, however, shows the most unique approach. Using minor chords to construct a happy song makes it interesting to the ear, while low, banging notes on the piano add to the deconstructed feel which is resolved nicely at the end.
Following is a "behind the scenes" video about the making of the album: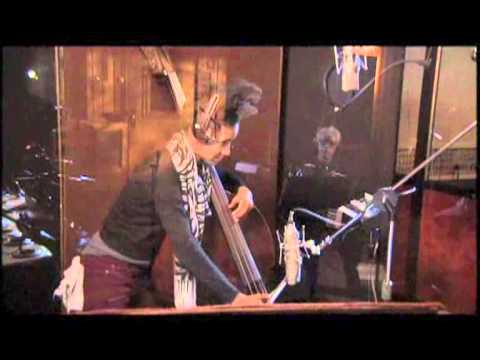 The rest of the album includes other familiar Disney songs from the movies Lady and the Tramp, The Aristocats, Toy Story, Snow White and the Seven Dwarfs, Beauty and the Beast, Alice in Wonderland, and The Lion King, as performed by Regina Carter, Joshua Redman, Dianne Reeves, Kurt Rosenwinkel, Robert Gambarini, Nikki Yanofsky, Gilad Hekselman, and Mark Rapp. If the listener is at all familiar with these Disney movies, it is hard to not sing along even though most of these tracks are instrumental arrangements.
Everybody Wants To Be A Cat is a great combination of traditional and progressive arrangements from both jazz heavyweights and younger, rising stars. The album will certainly capture the attention of all ages with its fresh and original jazz interpretations of classic Disney songs.
Reviewed by Megan Pottenger