Title: Ernie K-Doe: The R&B Emperor of New Orleans
Author: Ben Sandmel
Publisher: Historic New Orleans Collection
Format: Book (hardcover, 304 p.)
Release date: May 2012
Ben Sandmel's pictorial tome to Ernie K-Doe is befitting the iconic New Orleans R&B singer, which is a mighty feat given K-Doe's grandiose self-mythologizing. The "Emperor of the Universe," as K-Doe often referred to himself, began his reign in 1961 when "Mother-in-Law" topped black and white radio charts, and years after his passing, continues as a leading figure of New Orleans' nightlife—a life-sized effigy of K-Doe frequents all the town's biggest happenings, as fancifully dressed as its irascible namesake, though decidedly much quieter.
Sandmel chronicles Ernie K-Doe's rise to fame, positions him within New Orleans' legendary R&B scene that includes the likes of Fats Domino, Huey "Piano" Smith, Earl King, Chris Kenner, Allen Toussaint, Eddie Bo, Ray Charles, Little Richard, and Guitar Slim, and recounts how K-Doe's affable showboating and flamboyant idiosyncrasies grew even as, and especially when, his star began to fade.
The singer turned cult radio personality turned scenester nightclub owner was his own biggest publicist. "There have only been five great singers of rhythm and blues—Ernie K-Doe, James Brown, and Ernie K-Doe," he reveled with egomaniacal zaniness. In 1962, Ernie K-Doe challenged the Godfather of Soul himself to a Battle of the Blues, and despite wide claims to the contrary, K-Doe proclaimed himself the victor. His legend was also spread with an equal measure of bad publicity, as his big personality came with many downsides like excessive drinking and spending, vainglory, opportunism, and paranoia. And yet he joked, perhaps obliviously, through many career and personal defeats.
The following tribute to Ernie K-Doe, compiled by the Louisiana Music Hall of Fame, opens with a 1980s performance and closes with the K-Does dancing in the Mother-In-Law Lounge: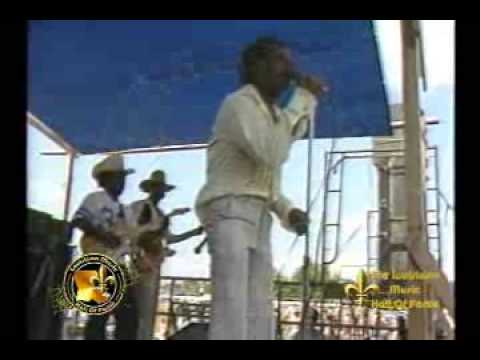 Ernie K-Doe: The R&B Emperor of New Orleans has all the hallmarks of the best music biographies. K-Doe's tirelessly entertaining personality offers a lot in the way of content. But Sandmel's account improves on the tales K-Doe spun, perfectly framing the musician's offbeat jive talk with a skillfully understated yet probing and witty literary voice, telling of New Orleans' local treasure while casting him within universal themes. And Sandmel's writing paints the details with a precision en par with the book's amazing collection of archival photos. He sets the scene of K-Doe's famous Mother-in-Law Lounge thusly:
"Close by New Orleans's French Quarter, an elevated highway casts shadows upon north Claiborne Avenue. Old men play checkers in the gloom below, seated on milk crates and abandoned car seats. Steely-eyed teens cruise restlessly on children's bicycles three sizes too small, their knees pumping high above the handlebars. People flinch at sudden loud noises, fearing they may be gunshots, which are not infrequent."
Sandmel honors K-Doe's memory without ever idealizing him and humors K-Doe without ever patronizing him. Without a doubt, Ernie K-Doe was a larger-than-life character. Sandmel gives him the story he deserves.
Reviewed by Betsy Shepherd