Title: #OPRAH: Ordinary People Recording American History
Artist: Epic
Label: Self-released
Format: MP3
Release date: November 6, 2014
Hip-hop has been intertwined with politics and social movements from the beginning, with the most famous example being "The Message" by Grandmaster Flash. From its roots in the projects of New York City in the 1970s, hip-hop quickly became a way for African Americans to express frustration as well as political and personal struggles.
Richard Wallace, better known as MC Epic, is bringing back political hip-hop with a vengeance. A Chicago native, Epic is also a member of the hip-hop group BBU, whose 2012 mixtape bell hooks was named the top Chicago indie album of the year. On his first solo album, #OPRAH: Ordinary People Recording American History, Epic has kept all the fire and political commentary of BBU while infusing powerful samples from both movies and music  to tell his own personal story.
#OPRAH is "dedicated to the suffering," and Epic himself calls his sound "Afro Human Emo Trap." The lyrics tackle subjects from Tuskegee to the death of Epic's father to the shootings of Treyvon Martin, Mike Brown, and Eric Garner. To Epic, the title shows the importance of regular people recording history in this digital age, especially when information and events are kept out of mass media. He says in an interview with MusicVox that "These things ain't gonna show up in mass media, they ain't gonna show up in production. These things have to be told through each other."
The first track, "Intro Classic," samples "Exp" by Jimi Hendrix, followed by Epic proclaiming "It feels good to be Black." Soulful vocals and organ play behind Epic's powerful rap, which focuses on the largest theme of the album: racial injustice. The music is dramatic and bold, serving as a grand overture to the album, introducing the tracks as a whole story rather than a random collection of songs.
"Family Tree" is the standout track, with clever lyrics that reference dozens of leaders from the social-political historical struggles of African Americans, as well as various influential hip-hop artists. Epic intertwines these histories seamlessly.  Fast-paced beats accompany the sample of "Eleanor Rigby" as Epic raps "I was an 80's baby / everything was chopped and screwed. / Tupac was a prophet before they gave him juice. / A tree was a tree until they gave that shit a noose. / I guess it's all strange fruit / that's my sister Billie Holiday."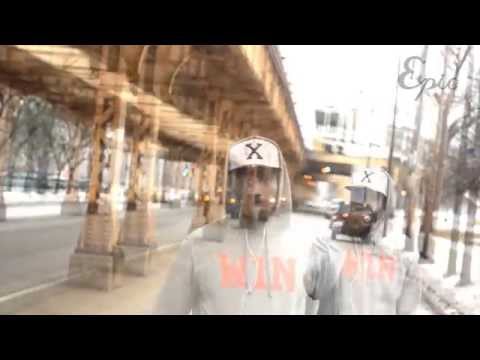 Though it's easy to focus on the conscious and clever lyrics, the production of #OPRAH is also impressive. Sound bites from The Color Purple are featured at the beginning or end of many of the songs, furthering the theme of racial injustice. For instance, "DoDatAt" ends with The Color Purple scene where the protagonist Sofia repeatedly says "Hell no" when her daughter is asked if she would like to work as a maid.
Though the lyrics are politically charged, they are not controversial for controversy's sake. Instead, they are a manifestation of Epic's processing and response to "the continued violence to Black Bodies by Police around the world." While calling for a public response, Epic is also dealing with a personal question of his own: "How does something like that happen to another human being?"
In "Gadaffi," Epic discusses these issues on a national and local level, rapping "I'll die for Trayvon / enlist and play calm" before the chorus, which sings "It's Chicago, the home of crooked cops, bus stops, and slave masters Daley." The song "Oprah" has a similar theme and message, but its chorus is more hopeful, and repeats the acronym of the album: "Ordinary people recording American history, we makin' symphonies." Both tracks play with the ideas of personal and public, in the same way as the album title does, referring both to ordinary people, and Oprah, one of the most famous celebrities today.
The last song of the album, "Letter To My Father," is the most personal. The heavy beat is accompanied by strings, which carry the song along and add depth. Over this, Epic raps about his father, who died a few years ago in jail after serving time for over 20 years. Epic uses what his father taught him to discuss systematic racial injustice and personal freedom. The lyrics are connected to a realization he had about his father's attitude, which was that "a man literally behind prison walls was completely free. If he can be free back there, I refuse to live in bondage out here."
This last track summarizes the message of the whole album, which is that in order to rid the world of racial injustice, ordinary people must step up and fight for equality. Epic's father passed on the idea of both a personal and public fight for freedom to his son, and now Epic is passing it on to the world with #OPRAH, an album that goes beyond impressive hip-hop music to make sure everyone who listens considers the systematic injustices faced by African Americans, as well each person's role in creating and recording that history.
Reviewed by Anna Polovick