Title: Never My Love: The Anthology
Artist: Donny Hathaway
Label: Rhino
Formats: CD, MP3
Release date: November 11, 2013
Donny Hathaway has long been celebrated for his alluring voice and his unchallenged talent as a pianist, songwriter, composer and arranger. Over the course of six albums—including one live album and one soundtrack album—Hathaway generated a musical legacy comprised of numerous pop and R&B hits as well as a series of timeless and memorable collaborations with Roberta Flack. Never My Love: The Anthology not only reminds us of the gift Donny Hathaway's talents were to music, but also introduces us to music we've never heard before from this gifted musician.
Never My Love is a 4-disc box set including both studio and live recordings and 23 previously unreleased tracks—more unreleased tracks than have ever been included in previously issued compilations. The set also includes an extensive booklet with a thrilling, detailed essay authored by UK-based music journalist Charles Waring. The essay explores Hathaway's career with detailed quotes from those who knew him and also gives contextual and musical details about the songs.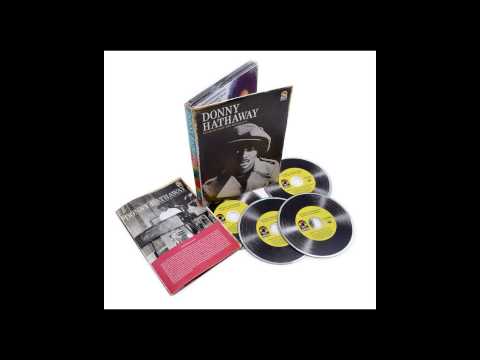 The first disc, entitled "Favourites," begins with Hathaway's time at Curtom as an A&R producer and reintroduces some of his well-known hits. Prior to stepping out to pursue his own solo career he co-wrote "I Thank You Baby" with Curtis Mayfield, a song he performed with soul singer June Conquest. The same song was reissued a few years later with the flipside "Just Another Reason," another duet with June Conquest. The disc continues with other well-known recordings such as "The Ghetto," "To Be Young, Gifted and Black," "This Christmas," "A Song For You," and "You Were Meant For You," among others. Also included is a promo single edit of "Thank You Master (For My Soul)."
The second disc includes 13 previously unreleased studio recordings, largely from the early to mid-1970s, beginning with the anthology's namesake, "Never My Love," a cover of the Association's 1967 hit. One of the major highlights is the final track, "ZYXYFY Concerto," a brilliantly composed piece for piano and full orchestra that highlights the extent of Hathaway's talent as a composer beyond the songwriting we know so well, while also illustrating the influence of classical music on Hathaway as a musician.
The third disc is an expansion of a previously released 1972 album entitled Live. While the songs may have been previously released, those included in this anthology are all taken from Donny Hathaway's performances at the Bitter End club in New York City's Greenwich Village, adding to the rarity of unreleased recordings on this set.
The fourth disc documents the monumental duets between Donny Hathaway and Roberta Flack, including their well-known hits "You've Got a Friend," "Where Is the Love," and "The Closer I Get To You." It also includes the charting singles "You Are My Heaven" and "Back Together Again," released posthumously.
For any Donny Hathaway fan, this compilation will be a valuable addition to your collection, largely for the unreleased recordings. For newfound fans, Never My Love offers a comprehensive introduction to an incredible musical talent.
Reviewed by Christina Harrison