Title: LXW: League of Xtraordinary Worshippers
Artist: Deitrick Haddon
Label: Tyscot
Formats: CD, DVD, MP3
Release date: April 22, 2014
Long before to his rise to notoriety starring in Oxygen's reality television show Preachers of L.A., Deitrick Haddon was a choir leader and gospel artist based in Detroit, Michigan. His work with the Voices of Unity helped launch his award winning solo career with early Tyscot releases like Come Into This House (1995). Recently, Haddon has returned to his choral roots, developing a Los Angeles-based choir called the League of Xtraordinary Worshippers (LXW) in an effort to reinvigorate the "youth choir" movement across the U.S.  Primarily comprised of young adult, aspiring gospel performers, this 100 voice unit reimagines the contemporary gospel choir with modern urban style and sounds. Their self-titled debut project also features several gospel choir icons like Ricky Dillard and Donald Lawrence.
The group's live debut concert, captured on CD and DVD, features newly composed songs with longtime familiar themes and messages. For instance, the song "Don't Pass Me By" led by Jessica Reedy (of BET's Sunday Best fame) is based on the still popular hymn "Pass Me Not, O Gentle Savior" (1870). This performance updates the song with a lighthearted, danceable groove. Similarly, LXW also performs "Tis So Sweet" based on the hymn "'Tis So Sweet to Trust in Jesus" (1882). Much more reverential in tone, this selection showcases traditional gospel style with vocally robust harmonies and a repetitive vamp encouraging listeners to "trust in Jesus."
True to Haddon's form, LXW is an eclectic blend of traditional gospel elements (like preaching, growls, etc.) with contemporary and even so-called "secular" expressions. "We Need Your Power Lord," led by Hezekiah Walker, draws musical influences from the iconic opening bass and lead guitar riffs in the Jackson 5 hit "I Want You Back." This selection highlights all of the exciting and memorable elements of contemporary youth choirs including heavy-hitting vocals, energizing call and response with the soloist, and a modulating vamp that invites listeners to joyfully worship. Another example of musical blending is the reggae inspired selection, "I Wanna Know Ya." Led by Haddon, this textually and melodically simple piece is rather laidback until a musical quotation of the praise song "The War Cry," popularized by the late Bishop Kenneth Moales, Sr., adds a surprising burst of energy and momentum.
Perhaps one of the most contemporary songs on this project is the hit single "Great God" which features electronic synthesized sound alongside the live band, with a hip hop inspired beat. It opens with rhythmic spoken lyrics in unison and gradually builds to an invigorating call and response between the sopranos and altos and tenors that ends with a declaratory "Great God" in three part harmony.  LXW's dynamic performance of this song landed them a spot as the opening act on BET's yearly program Celebration of Gospel airing this past April.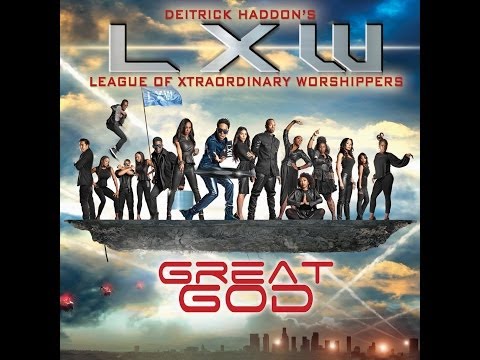 Another contemporary element of LXW is the inclusion of two "spoken word" pieces as interludes between songs performed by members of the choir. While speaking, preaching, storytelling, or "sermonizing" has been a regular feature in gospel music recordings for several decades, the poetic spoken word genre is a fairly recent inclusion in the long history of African American Christian religious oration.
While the CD provides an exciting listening experience, the live DVD is well worth viewing. Many of the songs like "Great God" feature the choir performing simple yet effective choreography which entices viewers to dance along. Similarly, the energy and physical movement which has historically been a defining characteristic of gospel music performance is celebrated here as the performers and audience interact, sing, and praise together communally. For instance, performances of songs like "We Need Your Power Lord" and "I Wanna Know Ya" were so engaging, that the recorded sections included on the DVD left me eager to see what occurred in the parts that were left out. In the same way, the League of Xtraordinary Worshippers has me excitedly anticipating what's next for contemporary gospel choir music.
Reviewed by Raynetta Wiggins