Title: Get an Understanding
Artist: Como Mamas
Label: Daptone Records
Formats: CD, LP, MP3
Release Date: February 5, 2013
The other day while searching for something non-music related, I discovered the Como Mamas. And when I heard them, I was like, "YES! Someone is taking this dying, old school Black Baptist gospel music, and singing, recording, and introducing it to new audiences." This is the essence of fieldwork and folklore, discovering anew old music. But the case of the Como Mamas struck a personal chord with me because this rural a cappella gospel is the sound of my childhood. It is the music that my grandmother and her prayer band sang at the side of countless sickbeds. It is the sound the older ladies at St. James Missionary Baptist Church in Riviera Beach, Florida, sang every time the doors of the church opened. I know this music. As a child I had little patience or interest in this old time singing because I wanted to hear contemporary gospel from The Winans, John P. Kee, and Hezekiah Walker. Now, as a thirty-something-year-old woman, I long to hear songs like "Old Landmark" and "I Know It Was the Blood."
I watched the Como Mamas promo video and excitedly posted it on Facebook and Twitter with the caption:
The older I get, the more I long for the gospel music of my grandmas, mama, and elders. It's getting really hard to hear these old sounds in new churches. You gotta fall through an old country church to hear stuff like lined hymns (or any hymns at all).
I just found out about the Como Sisters and I am TOO crunk about their album on Daptone Records.
The whole thing is just voices, harmony, and spirit. Pure Awesomeness.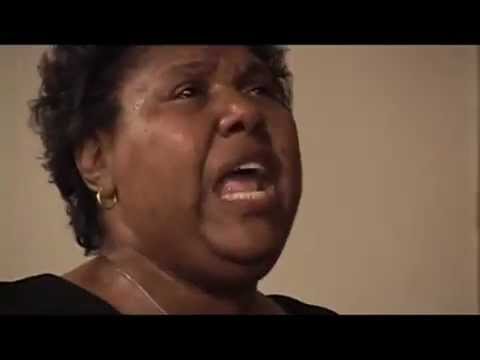 The Como Mamas—Angela Taylor, Della Daniels, and Ester Mae Smith— have been singing in church all their lives in Como, Mississippi. They recorded their new Daptone Records release, Get an Understanding, in Mt. Moriah Church in Como. In an era of megachurches, where sound systems rival top-notch concert venues, The Como Mamas are as quaint as gospel music gets. Their album is not full of new material, but rather church standards with which most Baptists are familiar. This is why their sound is so refreshing. What's more, The Como Mamas' album is a reminder that although this music is rapidly disappearing, it is still a living part of the liturgy of many older rural congregations.
But how did the Como Mamas of Como, Mississippi, come to be on Daptone Records in Brooklyn, New York? According to Daptone Records' website, Michael Reilly of Daptone was following the work of famed folklorist Alan Lomax and ended up in Panola County, Mississippi. There, he encountered Mt. Moriah Church, and several talented singers in the area. The result was Daptone Records 2008 release Como Now, which featured the Como Mamas, The John Edwards Singers, Brother and Sister Walker, Irene Stevenson, and others. Lomax himself recorded in Panola County in the 1940s. Lomax's Mississippi recordings, some of which were greatly assisted by Fisk University scholars John W. Work, Lewis Wade Jones, and Samuel C. Adams, Jr., are invaluable to what we know about the Delta blues tradition. For better or worse, they shaped the idea of "authentic" Black music from that era into the present.
I've listened to the Como Mamas' Get an Understanding twice, and appreciate that the singers are intimately familiar with the songs. They correctly sing them on and just under the pitch. They are imperfectly harmonic, and they soulfully sing with the colorful heterophony I miss. All the songs are performed a cappella, which makes sense given that many small churches historically did not have piano or organ accompaniment. But something vital is missing: There are no foot stomps or hand claps. This may sound like a small production omission, but the absence of at least body percussion pulled me out of Mt. Moriah and into a recording studio. I have never heard people sing "Ninety Nine and a Half Won't Do" and not clap or pat their feet to it. Muted and muffled foot pats on "Hold Me Jesus" struggle to reach the listener's ear.
Granted, not all older African American sacred traditions have percussive elements. Lined hymns do not, but often people interject clapping to punctuate climatic moments of the "lining." I tweeted The Como Mamas label, Daptone Records, and asked if there was a reason for the omission, because it is hard for me to imagine that it was the Como Mamas' idea.
The absence of extemporaneous percussion gives this recording a feeling of restraint that quells the spirit that this music is meant to inspire. That withstanding, the trio of voices— Ester Mae Smith, Angela Taylor, and Della Daniels—blend like a family that has been singing together all their lives. Smith sings lead on most of the tracks with an alto voice that completely fills a room, while Taylor supports her from below and Daniels from above. The Como Mamas sing spirited recordings of beautiful music that most people have never heard. For that reason alone, people should listen to these songs and let the gospel sounds carry the listener to his or her own "understanding" of the music.
Reviewed by Fredara Mareva Hadley