Title: Border-Free
Artist: Chucho Valdés & the Afro-Cuban Messengers
Label: Jazz Village/Comanche Music
Formats: CD, MP3
Release date: July 9, 2013
Redefining the lines of Afro-Cuban secular and sacred music, Dionisio de Jesús Valdés Rodríguez has gifted the music world with his most recent album, Border-Free.  More commonly known as Chucho Valdés, this Afro-Cuban jazz giant's bold production fuses elements of flamenco, Gnawa music of Morocco and classical music and arrives less than one year after the passing of his father, mentor, and master pianist Bebo Valdés.
Deeply rooted in the tradition of fundamental practice, Chucho, with his Afro–Cuban Messengers—who all equally match his level of technical ability, intensity and natural musicality—insinuate the importance of an introspective approach to music production.  Border-Free is an homage to significant players in Chucho's life and upon listening to the 8 tracks that comprise the album, one can sense his great deal of pride in the ability to tell stories exemplifying the multifaceted nature of Afro Cuban identity.  Three tracks are family tributes: "Caridad Amaro" is dedicated to Chucho's grandmother; "Pilar" composed for his mother, includes a quotation of J.S.Bach's "Prelude in D Minor," with hints of Miles Davis's "Blue in Green;" and "Bebo" was recorded both in Havana and in Málaga, Spain where Chucho relocated to be close to his ailing father.  His composition "Afro-Comanche" serves as a call to action for students to examine the history surrounding events occurring in the 18th century that were integral in the mixing of Africans and Amerindians in Cuba.
Without a doubt, the most exciting features of the album are Valdes' virtuosic improvisations.  Innovation will always remain the hallmark of the Valdes family of master pianists, but Chucho's improvisations in Border-Free experiment with more esoteric means in the jazz idiom.  Free meter and extended rhythmic ostinatos interlaced with installations of clave, ebb and flow to fit with any meter with out losing the essence of the groove.  An astonishingly skillful grand master of piano, Chucho's pristine, lightning fast runs and arpeggios titillate his listeners with each repetition. I can liken it to being hit in the face over and over with buckets of cool water on a hot day.  Only listening to Valdés' polyrhythmic improvisations in Border-Free is like being happily greeted by musical masses of ecstatic sonic wondrousness flowing forth from his fingertips.
Border-Free is Valdés' second release featuring the Afro-Cuban Messengers, a group of phenomenal Cuban musicians: Reynaldo Melián Alvarez (trumpet), Dreiser Durruthy Bombalé (batá drums and lead vocals), Rodney Barreto Yllarza (drums and vocals), Yaroldy Abreu Robles (percussion and vocals), and most appreciated for his improvisational ability is double bassist Angel Gastón Joya Perellada. From the Marsalis family of jazz, Branford Marsalis provides priceless support on three tracks, which, according to Chucho, have given color and strength to the new material.
The following video is from Valdes' Comanche music detailing the making of Border Free: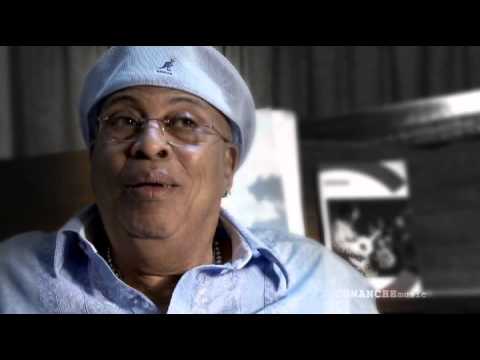 Reviewed by Madelyn Shackelford Washington