Title: Ancestral Recall
Artist: Christian Scott aTunde Adjuah
Label: Ropeadope
Formats: CD, Digital
Release date: March 22, 2019
New Orleans based jazz trumpeter and composer Christian Scott aTunde Adjuah has just released his much anticipated project, Ancestral Recall. The album is meant to be a continuation of his concept "stretch music." Introduced with his 2015 album of the same name, "stretch music" is Adjuah's attempt to "stretch—not replace—jazz's rhythmic, melodic and harmonic conventions to encompass as many musical forms/languages/cultures as we can." 
Speaking on the album, Adjuah says the following:
"In its inception, Ancestral Recall was built as a map to de-colonialize sound; to challenge previously held misconceptions about some cultures of music; to codify a new folkloric tradition and begin the work of creating a national set of rhythms; rhythms rooted in the synergy between West African, First Nation, African Diaspora/Caribbean rhythms and their marriage to rhythmic templates found in trap music, alt-rock, and other modern forms. It is time we created a sound that dispels singular narratives of entire peoples and looks to finally represent the wealth of narratives found throughout the American experience. One that shows that all forms of expression in sound are valid, as all people are."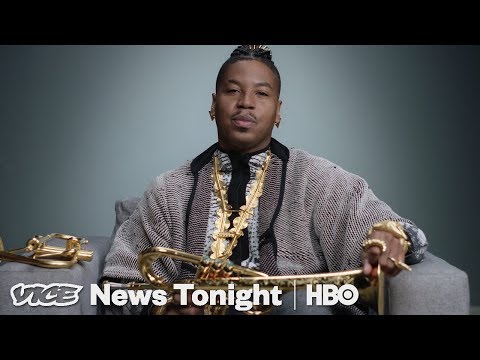 Aside from trumpet, Adjuah can be heard playing his custom siren and sirenette, reverse Flugelhorn, percussion, synths, and vocals. One of the notable aspects of the project is Adjuah's collaboration with poet/musician/performance artist Saul Williams, who is featured on and co-composed the tracks "I Own the Night," "The Shared Stories of Rivals (KEITA)," and "Ancestral Recall." The title track is also a celebration of Adjuah's newly appointed title of Chieftain in the Black Mardi Gras Indian tradition of New Orleans, following in the footsteps of his father and grandfather, who were both Big Chiefs. Throughout this track and the album, he strives to navigate these Black Indian tribal spaces while also incorporating music indicative of his African ancestors.
Other performers include flutist Elena Pinderhughes who is featured on "Her Arrival," "Diviner" and "Before;" Weedie Braimah, Themba Mkhatshwa, Amadou Kouyate, Munir Zakee Richard, and Corey Fonville who trade off on percussion throughout the project; Devan Mayfield, Chris Turner, and Mike Larry Draw on vocals; Lawrence Fields on the keys; and Logan Richardson and Kris Funn respectively on alto saxophone and bass.
With its unique instrumentation and innovative use of musical genres such as hip hop and electronic music, Ancestral Recall certainly does stretch our understanding of jazz toward a genre that remains faithful to tradition while simultaneously embracing change.
Reviewed by Kennedi Johnson