Title:    Chamber Music Society
Artist:  Esperanza Spalding
Label:  Heads Up
Format: CD
Catalog No.: HUI-31810-02
Release date: August 17, 2010
–
"A brilliant marriage of string and jazz trio with voice"
Bassist, vocalist, composer and now producer, Esperanza Spalding continually surprises her listeners. Having discovered the bass at age 14 after playing cello and hired at age 20 by the Berklee College of Music in Boston, she is one of the youngest professors in the institution's history. Now 25 and with two highly acclaimed releases—Junjo (2006) and Esperanza (2008)—under her belt, the young prodigy will release her third album Chamber Music Society on Heads Up International in August 2010.
In the following video Spalding discusses the concept behind Chamber Music Society (© 2010 Concord Records):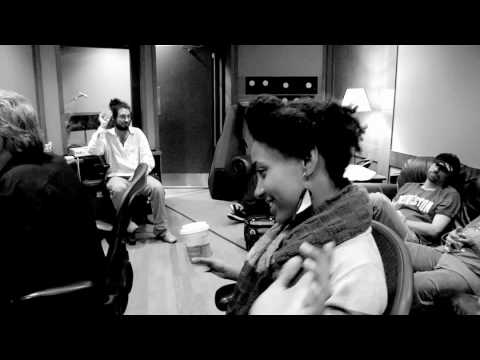 Chamber Music Society presents eight of Spalding's own musical compositions with string arrangements by Spalding and Gil Goldstein. It also features "Chacarera," composed by Leonardo Genovese, and two borrowed tunes, "Wild in the Wind," covered notably by Nina Simone, and Antonio Carlos Jobim's "Inùtil Paisagem" (both newly arranged by Spalding, the latter in collaboration with Gretchen Parlato).
The band is comprised of two distinctive and complementary sections. The rhythm section is composed of Leo Genovese (piano, Rhodes and melodica), Terri Lyne Carrington (drums), and Quintino Cinalli (percussion, candombe drums and bombo leguero). The string section includes Entcho Todorov (violin), Lois Martin (viola) and David Eggar (cello – playing solo on "Chacarera" and "Wild in the Wind"). The acoustic bass of Esperanza Spalding is charming as the cornerstone of this fusion.
The track "Apple Blossom" features the prominent Brazilian singer Milton Nascimento and Ricardo Vogt on guitar. Gretchen Parlato also sings with Esperanza on "Inùtil Paisagem" and "Knowledge of Good and Evil."
Spalding remarkably merges in Chamber Music Society her early classical music influences with her more recently acquired jazz, folk and world music styles. An impressive work of fusion, this album carries its audience through different atmospheres, from jazz ballads like "Little Fly" to modern grooves such as "Really Very Small" to dreamlike, even spiritual, adventure in "Short and Sweet." The sweetness and intensity of the string trio arrangements blends here with the spontaneity and dynamics of the jazz improvisation. Overall, Chamber Music Society offers a multifaceted perspective on the interweaving of classical traditions and contemporary jazz.
Editor's note: Spalding's next release, a blend of funk, hip hop and rock elements titled Radio Music Society, is set for release in the spring of 2011.
Reviewed by Guillaume Dupetit