Title: Mãe Carinhosa
Artist: Cesária Évora
Label: Lusafrica
Formats: CD, MP3
Release date: March 4, 2013
Cesária Évora, who passed away in December 2011, possessed a voice whose silken sorrow draped listeners in a slow moving fog of wistful emotions. Évora was widely known as the "Queen of Morna," a Cape Verdean musical genre that has tints of Portuguese fado, Brazilian modhinas, and British sea shanties, but is entirely unique in its own ways thanks to the underlying West African percussion. The morna ensemble is usually comprised of percussion, clarinet, violin, guitar, piano, cavaquinho (a Portuguese four string guitar), and of course, a singer. The singer subtly commands the listener's focus and attention with romantic lyrics of love, homesickness, migrant issues and, perhaps most engagingly saudade.
Saudade is a Portuguese word that is not directly translatable into music, but that described a longing for something that was loved but is gone, most likely never to return. Cesária Évora's life was full of the kinds of experiences that would lead to strong feelings of saudade, a nostalgic yearning that coated every word she sang.
The following video features Cesária Évora performing her break-out hit "Sodade" (not featured on this CD), which is Cape Verdean Creole for "saudade":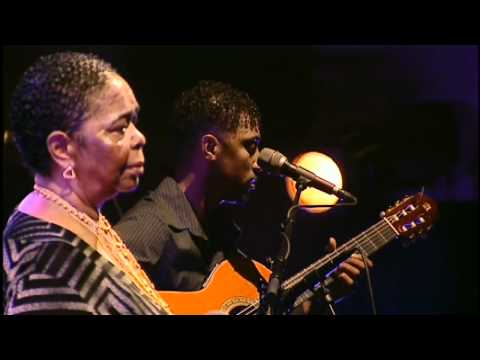 Born in Mindelo, São Vicente, Cape Verde, in 1941, Évora suffered the loss of her father at age seven, and then only three years later was sent by her mother to an orphanage. Évora had a lovely voice that caught the attention of a friend who convinced her at age 16 to begin singing in local taverns, which she parlayed into singing on Portuguese cruise ships by the 1960s.
In 1985, Évora was invited to perform in Lisbon, where she enraptured  music producer José da Silva. He invited her to record in Paris, eventually releasing her highly successful first album, and becoming her production partner for the rest of her career. Mãe Carinhosa is the first posthumous album of unreleased Évora tracks curated and produced by da Silva.
That there was a clear bond of affection between da Silva and Évora is evident in this collection, from the perfectly organized and selected tracklisting to the title of the album itself, which means "mother tenderness," a title selected by da Silva "in tribute to her mother because she used to talk a lot about her."
Mother tenderness could also apply to the way Évora approached the music on each of the thirteen songs. There is a quiet strength of expressivity in her voice that never sounds forced or forceful but rather subtly accepting of whatever life may bring. In spite of the expert performances from the musicians, Évora is always in the front of your mind. The way she would add a lilt to the end of a word, the world weary manner she would slow down at the end of phrases, the way she manages to dance above the accompaniment (such as on "Emigue Ingrote") while keeping her voice smooth and grounded; all the elements of Évora's performance show her as the master of song interpretation she was. Listening to her sing morna completely resets your mind to a space of deep feeling, regardless of whether or not you can understand the words she is saying.
Mãe Carinhosa is a perfect tribute to Cesária Évora and makes listeners feel their own sense of saudade for an artist who is gone, never to return. Luckily, we will always have these mementos, recordings of her beautiful spirit and voice.
Reviewed by Dorothy Berry