Title:  WomanChild
Artist: Cécile McLorin Salvant
Label: Mack Avenue
Formats: CD, MP3
Release date:  May 28, 2013
Winner of the 2010 Thelonious Monk International Jazz Competition, Cécile McLorin Salvant's debut album WomanChild firmly establishes the 23-year-old singer as a formidable talent and rising star. Born in Miami to a French mother and Haitian father, she studied classical and baroque vocal music in France as well as jazz. By the time Salvant returned home, she had also engaged in a study of early jazz and blues vocal traditions which not only facilitated the development of her unique personal style, but informed her selections for this album.
On WomanChild, Salvant presents songs "that are little known, or have been recorded very few times" and goes on to explain "while these songs aren't recognized as standards, many should be because they are so beautifully crafted."  Not all of the tracks fall under this category, but she has certainly reached deep into the archives of recorded sound to retrieve some gems.
Salvant claims to have studied the entire recorded legacy of Bessie Smith, so it's fitting that she opens with "St. Louis Gal," accompanied by the acoustic guitar of James Chirillo, and also includes "Baby Have Pity On Me" recorded by Smith in 1930.  On "I Didn't Know What Time it Was," Salvant's timbre and vocal stylings fall somewhere between the grittiness of Billie Holliday and suaveness of Sarah Vaughan, who both recorded the song: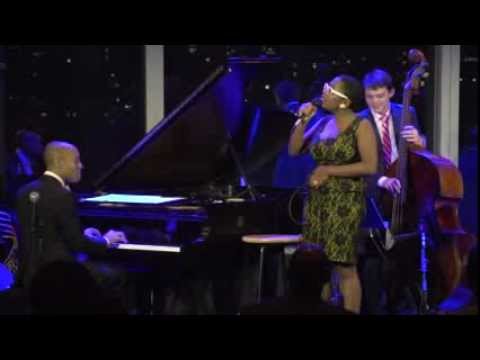 Collectors of early African American recordings will be interested to hear Salvant's fantastic arrangement of Bert Williams's trademark song "Nobody," which shifts back and forth between smooth ballad and blusey honky tonk.  "You Bring Out the Savage in Me," made famous by 1930s trumpeter Valaida Snow, is a song Salvant claims she had to sing because the racist lyrics were "so completely absurd and outrageous." Other period pieces include the folk ballad "John Henry," Fats Waller's "Jitterbug Waltz," "There's A Lull In My Life" (which I like even better than Ella Fitzgerald's version), and an entirely original rendition of "What a Little Moonlight Can Do."
Salvant is equally comfortable on the contemporary songs. The title track is a tour de force that also allows pianist Aaron Diehl to shine in a prominent solo. "Le Front Caché sur Tes Genoux," based on a poem by the Haitian poet Ida Faubert, is a waltz-swing arrangement in the style of a sultry French cabaret song, while the brief but haunting "Deep Dark Blue" that closes the album showcases Salvant's ability to change moods through shifting timbres and pitches. She may consider still herself a WomanChild, but Salvant's maturity, technique, and knowledge of the literature are astonishing!
Reviewed by Brenda Nelson-Strauss