Title: Coming Forth by Day
Artist: Cassandra Wilson
Label: Legacy
Format: CD, LP, MP3
Release date: April 7, 2015
On the 100th anniversary of the birth of one of jazz's most seminal voices and song interpreters, Billie Holiday, it is no wonder that prominent jazz labels, which have found that jazz fans often trade in nostalgia, are releasing tribute albums full of Lady Day's signature songs.  Cassandra Wilson is one of the well-known vocalists who is contributing to this celebration, offering up an album full of Holiday's signature tunes in an adventurous format, one that ultimately contains both hits and misses.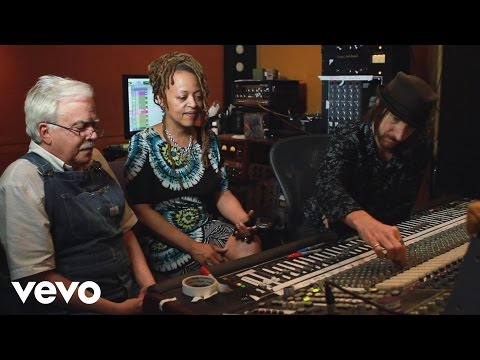 The album's liner notes set the scene as a smoky bar at the end of a dark alley, where the bartender knows one's name and favorite drink, and where there is a jazz singer crooning the classics, providing a lyrical image to match this album's tone. Wilson plays the part of the club's singer, channeling the sadness which the liner notes argue was a key element of Holiday's own vocal style.  Wilson plays this part convincingly, delivering a subdued "You Go to My Head" over a string section that recalls Philly soul, a dirge-like performance of "The Way You Look Tonight," and even an original number, "Last Song," inspired by Holiday's inability to sing the funeral of longtime friend Lester Young.  Also included is an appropriately haunting version of "Strange Fruit" and a heartbreaking recording of "Good Morning Heartache."
One striking feature of the band accompanying Wilson is that it sounds more like a jazz band would sound on the surreal TV series Twin Peaks than a group that one would likely encounter in a jazz club, let alone a group performing a set of jazz standards like the ones included on this record.  This is likely due to the presence of several well-known gothic rock veterans who appear on Wilson's production team for this record.  The project is co-helmed by longtime Nick Cave producer Nick Launay, and features T Bone Burnett and the Yeah Yeah Yeah's Nick Zinner on guitar. Wilson has engaged in stylistic experiments like this before and sounds comfortable with the  presence of these rock musicians leaving a strong imprint on these numbers.  This lends the project the atmospheric melancholy described in the liner notes, with swirling steel guitars on the jazz standard "All of Me," and a slowed down tempo and dark orchestration on "What a Little Moonlight Can Do," a number that is typically rendered as an up-tempo swing.
While few serious jazz listeners would argue that there isn't a sort of melancholy in Lady Day's own singing, one may reasonably wonder if this isn't a fairly one-dimensional treatment of Holiday's music based upon some rather vague preconceived notions about the legendary singer.  While Billie Holiday certainly sang the blues and could arguably capture depths of sadness that few singers in any genre have ever been able to reach, there was also irrepressible joy to be found in much of her music (for skeptics, give Holiday's recordings with Young or Ben Webster a spin).  Wilson and company treat Holiday's music with a great deal of admiration and respect, certainly, but this document ultimately lends the feeling that the musicians involved may have sacrificed a deeper understanding and more thorough treatment of Holiday's music in favor of an approach that at times may best be described as "atmospheric." With that said, Wilson and company certainly take a novel and at times satisfying approach to Holiday's music on Coming Forth By Day, which is worth a listen despite its unevenness at times.
Reviewed by Matt Alley